Dick Venom & The Terrortones – Rockin' Rollin' Vampire Man
aaamusic | On 04, Mar 2012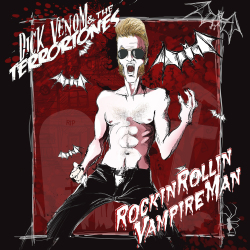 Dick Venom & The Terrortones have a insatiable garage/rockabilly/psychobilly sound evolved from their years of development. It is a glorious tease upon the senses and an instinctive instigator of the body's rhythms, essential rock 'n' roll. The quartet has sucked energy and blood from audiences all over the UK sharing stages with the likes of The Meteors, The Radiacs, and Vince Ray & The Boneshakers and this EP instantly nurtures the need and want to catch the band live as for all the excitement generated on the release you just know they on stage is a totally different experience.
'Sticky Pants Trance' up proceedings with a spawned garage punk energised sound and pulse racing rockabilly urgency. The guitars chop greedily across the senses as the bass throbs like a wanton beast on heat whilst Venom spits and writhes with words as he thrusts the messy fun filled lyrics forth.  The rest of the release could be crap and it would not matter thanks to this excellent opener because it's surely left an impression.
'Rockin Rollin Vampire Man', the title track would be the standout track of the EP, its irresistible and hypnotic tones make it reflect a bursting energetic atmosphere. With a wonderful lustful and inviting drum beat alongside a grumbling bass the song hooks its seductive nails in firmly. The track is psychobilly majesty that will bring deep smiles and longing desire from all fans of the genre.
Dirty Heartbreakers flavoured rock' n' roll lines the final track 'Lilly & The Killers'. Brief, straightforward, and direct the song is the perfect closure for a stunning release. Yes music like this finds a relatively narrow market, its delights and death drawn mischief a mystery and confusion for many but if you have tasted the wells of rockabilly and psychobilly and grown appreciative fangs then Dick Venom & The Terrortones will soon be an addition to your favourites folder.
Rockin Rollin Vampire Man and the decayed treasures within are simply manna from the cemetery and the cause of impatient anticipation for much more from the band. UK psychobilly is in safe hands, we can all rest in peace for that.
Elly Recastle