Kitsune Maison Party on Easter Sunday (April 8th) at Heaven London
aaamusic | On 04, Mar 2012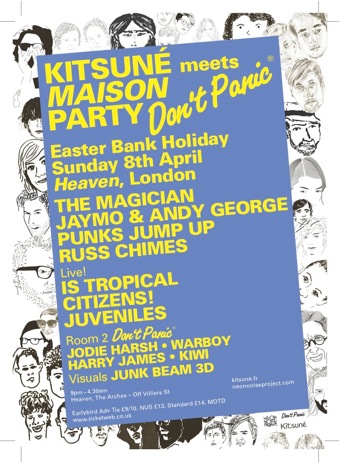 KITSUNÉ CELEBRATE THEIR 10th ANNIVERSARY!
LONDON'S HEAVEN ON SUNDAY 8TH APRIL 2012
Kitsuné, the brilliantly eclectic, forward thinking and adventurous French record and fashion label is set to celebrate 10 years at the hub of Parisian cool with a year jam packed of one-of-a-kind parties, exciting new compilation albums as well as releases from a super hot hand picked selection of the labels brightest signings and a brand new store opening in New York.
Over the course of a decade, Kitsuné have firmly established themselves as a force to reckon with. Cleverly bridging music, fashion and design, this young and unique brand is the brainchild of Daft Punk's art-director/ manager Gildas Loaec and architecture/ fashion design student Masaya Kuroki.
Kitsuné first started its label activity back in 2002 by releasing singles by up and coming bands and commissioning some of the hottest DJs around to remix these. It was not long before Kitsuné unveiled a knack for discovering fresh talent and over the years the label has become the first house of the likes of Klaxons, La Roux, Bloc Party, Digitalism and Delphic and has released tracks remixed by the likes of Vitalic, Yuksek, Brodinski, Crookers, Passion Pit, Boys Noize, Mark Ronson, Clock Opera…. The list goes on! Watch this space for news on 2012's EP releases from Computer Magic, BeatauCue & Juveniles…
The Kitsuné compilation series, which began in 2002 with the notorious "Love" edition has since progressed to include exclusive tracks from some of the world's hottest musical talents including Two Door Cinema Club, Hot Chip, Feist, Phoenix, Simian Mobile Disco, Foals, Klaxons, Soulwax and Wolfmother to name but a few. Some projects have also been born from exciting collaborations such as the partnerships with Petit Bateau, East London webmag Ponystep as well as the Kitsune Tabloid series which has been curated by Digitalism, Phoenix and The Twelves so far. Kitsuné Parisien II is out now ! Kitsuné AMERICA made up from 100% American acts is due for release April 2012.
Kitsuné label can also be accredited with a string of tremendously successful debut artist album releases including those of Hot Chip, Digitalism, Wolfmother, Two Door Cinema Club and Is Tropical. Most recently Two Door Cinema Club headlined the NME Award Tour 2012 and their debut album has gone platinum in the UK. In May 2012 you can look forward to Kitsuné's release of the highly anticipated debut album from Citizens!
Kitsuné Maison are also notorious for their club nights which have been exported from Paris to cities across the globe. Kitsuné offer fans high -energy parties with warm and fun atmosphere, sound tracked by a super hot, hand picked selection of the labels most electrifying young signings and DJs form their extended family.
Kitsuné are announcing their EASTER BANK HOLIDAY SUNDAY SPECIAL – KITSUNÉ MAISON PARTY! which will take over London's HEAVEN on Sunday 8th April 2012. The DJ line up will supply a full throttle mix of electro, disco and French House deadlines by a rare appearance from The Magician alongside Radio 1 stars Jaymo & Andy George, Russ Chimes, Punks Jump Up, Is Tropical, Juveniles, Citizens! Lifestyle bible DON'T PANIC will also take over a room with a riotous, polysexual, high spirited disco josted by Jodie Harsh, Warboy, Kiwi and Harry James with immersive visuals from Junk Beam.
Earlybird tickets are priced at £9/£10 in advance.