Portico Quartet @ York Hall
aaamusic | On 04, Mar 2012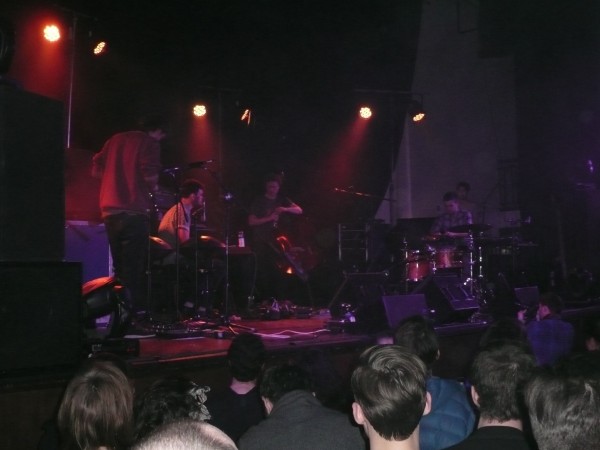 London, 29th February
Portico Quartet is a London based 4-piece modern post-jazz group inspired by electronica, ambient, classical and dance. Their innovative and distinctive sound comes from the use of the mysterious Hang, a 21st Century percussion instrument where music is triggered from electronic pads. They've been compared with Radiohead, E.S.T. and The Cinematic Orchestra.
Their name originates from one of their early gigs which was rained off in Italy and they took refuge by playing under a portico. Their early days were spent regularly busking outside the National Theatre.
The group comprises: Jack Wyllie (soprano and tenor saxophone), Duncan Bellamy (drums), Milo Fitzpatrick (double bass) and Keir Vine (Hang and percussion).
In Ruins a droning saxophone and percussion evolved around a clipped bass riff. It's a song with extraordinary cross rhythms. Window Seat developed slowly through eerie swirling tones, a haunting electronic pulse and a bowed double bass. Vocalist Cornelia joined them for Steepless, a song with an irregular pulse which creates a feeling of great unease.
Portico Quartet are extremely creative, inventive and spontaneous. Their unique, exciting music takes you on a moody, atmospheric journey of great beauty where strange, hypnotic rhythms encourage you to enter a new futuristic world. It's fresh, unique and very dramatic.
So where is Portico Quartet heading? Perhaps it'll go somewhere even more rich, abstract and impressionistic. Possibly they'll journey even deeper into the infinite depths of cyber space.
Anthony Weightman