The Civil Wars – Barton Hollow
aaamusic | On 05, Mar 2012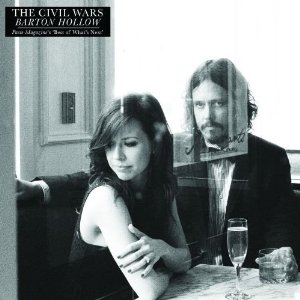 After two Grammys, Best Folk Album and Best Country Duo, Barton Hollow is finally receiving its well-deserved attention and gets a UK release.
John Paul White and Joy Williams craft a jewel of country-folk that is popular and aristocratic at the same time, imaginative and emotional, with peaks of intensity that projected this duo already in the alternative stardom.
Wary of ephemeral trends, the Nashville-based duo base on the incredible vocal complicity the strength of these twelve songs, fourteen if we include two splendid covers of Jacksons 5's I Want You Back and Leonard Cohen's Dance Me To The End Of Love.
The album almost seems to avoid percussions, which emerge gently only here and there, as in the sweet syncopations of I've Got This Friend.
It takes just few minutes to understand the oxymoronic nature of the band's name, where 'civil' stands for 'educate' and 'courteous', and that in times of crisis and unrest, the alternative rises from the hearth and deep emotions.
Voices stand out throughout Barton Hollow, sometimes accompanied by violins as very shy and respectful guests.
Powerful crescendos provide new layers in the passionate Poison And Wine, where John and Joy represent motives already explored by Damien Rice with the same power and never sounding mawkish.
In the album titled track The Civil Wars plug in their guitar and explore bluesy rage before giving space to a piano in the intimate The Violet Hour.
Consistent and timeless, Barton Hollow will accompany the calm of spring inspiring and enchanting.
Lorenzo Coretti