Flipper announce shows in Nottingham and London this April
aaamusic | On 18, Mar 2012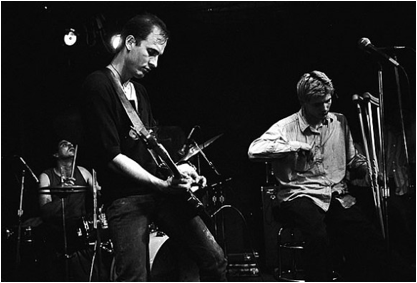 San Francisco punk rock band Flipper has come back to the touring scene, feeding the excitement of enthusiastic and nostalgic punk fans. The band has just started playing some US shows and will begin its European tour in April. The band is currently composed of Bruce Loose (vocals/bass), Ted Falconi (guitar), Steve DePace (drums), and Rachel Thoele (bass).
With its raw style, characterized by heavy distortions that enrich a bass-driven noisy sound, Flipper has been highly influential since the beginning of its story in 1979. It has been recognized as a source of inspiration, not only for several punk rock and noise rock bands, but also for sludge metal bands, like the Melvins, and grunge bands, like Nirvana. They have often cited Flipper as a milestone for their sound development. The self-made Flipper t-shirt, often worn by Kurt Cobain, late Nirvana frontman, has become legendary.
Flipper's line-up changed several times throughout the years. The loss of many members was due to a variety of reasons, including heroin overdose, as in the case of founder member Will Shatter, who died in 1987, and bassist John Dougherty, who died in 1992.
After the death of John Dougherty, the band took a break for over 10 years. They returned to the scene in 2005, however, for two live shows in support of CBGB. At the time, the band featured Bruno DeSmartass as bassist, and the same line-up went on performing live shows for the first part of 2006. At the end of that same year, Krist Novoselic of Nirvana became the new bass player for the band. With him, the band recorded new studio material and released a new album in May 2009.
The new release consisted of a 'twin album'. The first album, 'Love', contained the new studio material recorded with Novoselic, while the second, 'Fight', contained the live versions of old and new songs. Krist Novoselic then decided that touring was no longer a part of his life, and Rachel Thoele, former Frightwig, joined the band.
TOUR DATES:
Fri 6th April 2012 – Rescue Rooms, Nottingham
Tue 10th April 2012 – XOYO, London
Tickets: www.alt-tickets.co.uk