Introducing Reckless Sons
aaamusic | On 20, Mar 2012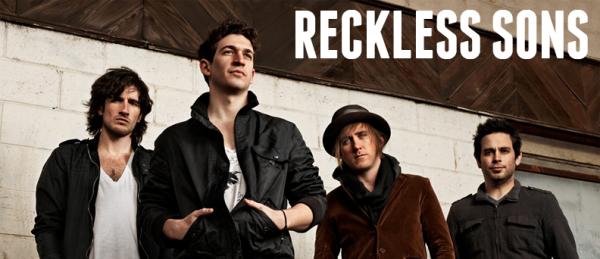 Reckless Sons are a ramshackle cadre of lads from Manhattan who coalesced around the brazen recalcitrant leadership of lead vocalist and songwriter by Matt Butler.  A wheeze of headstrong swagger precedes the band, which are made up of Butler on lead vocals and guitar, drummer John Badamto, guitarist Matt Hogan, and bassist Pat McCarthy.
The Reckless Sons EP is a brassy, valiant, audacious thrust of a debut.  EP showstoptper "Whipping Boy" comes busting out of the egress, with it's brash post-post-modern take on sexual politics; the song is a bold and defiant statement, though improbable in our humdrum present day.  Matt can't conceal the take-no-prisoners candor of "trying so hard but it just isn't me".  The collective's searing guitar solos first appear in this rollout track, and continue to infect every track on the Ep.   It is too damn hard to please everybody–here Matt plays the insolent maladroit, he knows this all too well and does not give a fuck.
This cabal of misfits is fired up, and out to purvey their dauntless smart-ass brand of gritty street-smart NYC rock to the masses. With the ingenious track "One Step Further" we find the band reaching their apex; the tome is a comment on the debased shallowness of modern social circumstances.  Here we find the band at their most powerful and majestic, rising triumphantly above the green ooze of modern mundanity.
The EP was produced with an enigmatic master, the singularly talented David Kahne, the concocter of classic breakthrough hits by acts running the gamut from the Strokes, Paul McCartney, Regina Spektor and Sugar Ray.  One listen and we quickly realize what Mr. Kahne saw in this troupe of cocksure full denim jackets.
Running contrary to the glut of barren personalities inhabiting the denizens of so-called 'radio rock' today, Matt and his Reckless Sons are determined to inseminate the current rock music landscape with a supersized dose of rough-and-ready melodic hooks, everyman incisive social commentary, and an urgency which has all but disappeared from our current music vernacular.  You must listen to this EP once and you will be standing on your desk screaming "Finally!" Reckless Sons are not taking NO for an answer.  Soon the world will know.
UPCOMING SHOWS:
+ 3/17 – Piano's – Ludlow St, NYC
+ 3/29 – Spike Hill – 184 Bedford Ave, Brooklyn
+ 4/13 – Trash Bar – 256 Grand St, Brooklyn
+ 4/26 – Bowery Electric – 327 Bowery, NYC
SOCIAL MEDIA LINKS:
+ Facebook: http://www.facebook.com/recklesssons
+ Soundcloud: http://soundcloud.com/reckless-sons/sets/reckless-sons/s-G9H5T
+ Youtube: http://www.youtube.com/recklesssonsofficial
+ Website: http://www.recklesssons.com/
[SELF-TITLED EP AVAILABLE NOW + ON TOUR THIS SPRING]