JEB LOY NICHOLS – Jeb Loy Nichols Special
aaamusic | On 24, Mar 2012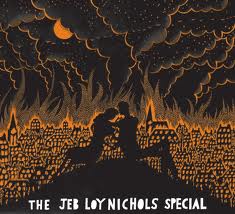 Jeb Loy Nichols is an American singer, songwriter, musician, and artist presently living on a farm in rural Wales. His music combines soul, country, bluegrass, folk, reggae, blues and jazz. He's also a renaissance man, known in the worlds of music, art and literature.
He releases The Jeb Loy Nichols Special, his ninth solo album, through the City Country City label (Decca Records) on March 26th, 2012. It's his first release on a major label for 15 years and was recorded with producer Benedic Lamdin and Nostalgia 77, a band of jazz musicians.
Jeb places his own songs alongside covers from musical legends like Larry Wilson (Things Ain't What They Used To Be), Merle Haggard (Going Where The Lonely Go), George Jackson (Ain't It Funny) and Townes Van Zandt (Waiting Round To Die).
He's developed an international reputation which is stepped in politics. A striking version of a reggae classic, Pablo Gad's 1980 single Hard Times, talks about the brutal and austere present. With a nonconformist approach to life he also attacks consumerism.
Jeb is quietly prolific with his smooth and underrated style. But he's also fiery and has an earthy rawness which is timeless and intensely personal.
Track List: 01 Intro 02 Different Ways For Different Days 03 Something About The Rain 04 Nothing And No One 05 Going Where The Lonely Go 06 Ain't It Funny 07 Countrymusicdisco45 08 People Like Me 09 Hard Times 10 Disappointment 11 Things Ain't What They Used To Be (And Probably Never Was) 12 Waiting Round To Die 13 The Quiet Life
Anthony Weightman