REBEKAH DELGADO – Sing You Through The Storm EP
aaamusic | On 24, Mar 2012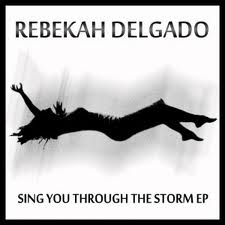 Rebekah Delgado is a dramatic London based singer songwriter, formerly lead singer of post punk group The Last Army.
The release date for her debut solo EP is 26th March, 2012, in advance of her album Don't Sleep, in October. It's influenced by her Spanish roots and Arabic leanings.
Sing You Through The Storm, the dark lead track written for a friend suffering a breakdown, has smart orchestration and atmospheric piano harmonies. It culminates with a sing-along of choristers, drums, acoustic guitar and a horn section. The  video features Rebekah falling from the sky. It's a very personal story, I just wish the tone felt a bit more uplifting.
Slightly sinister Little Boy Blue, a product of her chronic insomniac condition, has spooky noises which reflect her haunting nightmare experiences and vulnerability.
Trying To Forget is a dark valentine's song with interesting lyrics about trying to forget a former lover despite the lingering memories.
Don't Sleep (Johnny Nothing Remix) is from her debut album. It's a curious and quirky atmospheric dub remix with snatches of vocals, percussion and violin . It's catchier than the other tracks and reminds the listener that there's sometimes a gorgeous charm to her work, even if they don't like everything she does.
Anthony Weightman