Tom Billington Unveils Video & Tour Dates
aaamusic | On 24, Mar 2012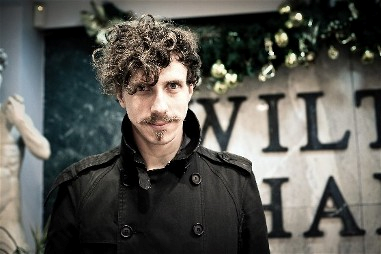 Released this month, on his own label Daddy Max Records, "As Luck Would Have It" is his second outing as a solo artist and is an instantly engaging collection of clever, memorable melodies and lyrics that ooze with emotional sophistication. It draws from the more acoustic, folk and Americana end of his record collection as he mixes the influences of Bob Dylan's lyrical complexity with James Taylor's flowing gentle tunes, Simon and Garfunkle's harmonies and Neil Young's gritty realism. The songs are catchy, lyrical, full of hooks but emotionally unusual and sometimes outright funny with clever and sometimes complex plays on words.
The album utilizes the skills of the many wonderful musicians he has met along the way from classical, rock and folk roots music including Joe Cooper (drums – Morcheeba, David Byrne), Anna Jenkins (violin – The Unthanks, Emily Barker and the Red Clay Halo), Tim Steggals (Cello – Sting, Royal Philharmonic Orchestra), Judy Manning(viola – BBC Concert Orchestra), Andrew McCrorie Shand (Piano and Accordion – Druid, Curved Air) and the vocals of sisters The Staves, lifelong friends who are nowthemselves causing a big stir in the music world.
Recorded mostly live in just four days, some of the sonic layers were captured by turning up at the homes of his various musical friends armed with a laptop and a handful of microphones to collect spontaneous contributions. This included gate-crashing a rehearsal of his mother's 36 piece women's choir!
Toms vision is to perform the album live, taking his music directly into peoples' homes, creating really unique evenings, in kitchens, living rooms, hallways and conservatories up and down the country as well as performances in the more mainstream venues we have come to love.
"Playing concerts in people's houses has been amazing. It started by accident: A favour for a friend led to further invitations and suddenly the idea blossomed. It's all very civilized … something to eat and drink and everyone gets involved… a unique experience for everyone."
"This is not a quest for global superstardom, more an unrelenting desire to write, perform and share music… on my terms"
He embarks on a House Tour in Feb and March around the UK and will be visiting towns / cities on the following dates and is available for free to drop by your house and perform acoustically for you at your very own house party.
17th February – Banbury, Oxfordshire
26th February – Reading, Berkshire
4th March – Berkhamsted, Hertfordshire
10th March – Felixstowe, Suffolk
18th March – Winsford, Cheshire
21st March – Keswick, Cumbria
24th March- Greenock, Inverclyde  (tbc)
25th March – Newton Stewart,  Dumfries and Galloway
28th March – Sheffield (TBC)
29th March – Shrewsbury, Shropshire
30th March – Worcester. Worcestershire
7th April – Hemel Hempsted, Hertfordshire