A Chat With Filastine
aaamusic | On 26, Mar 2012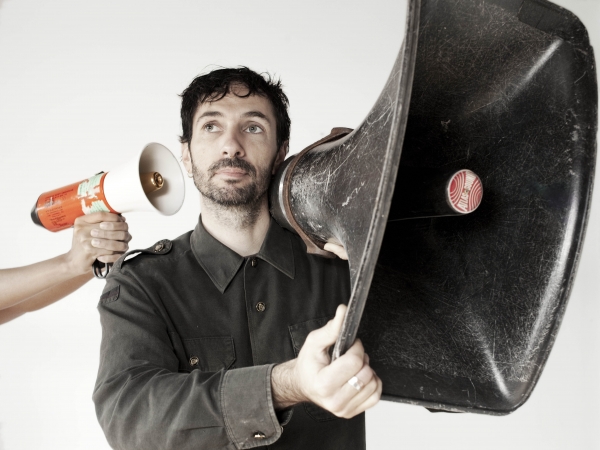 AAAmusic had a chat with Filastine: here's what we discovered!
AAAmusic: Can you tell us a little bit about the making of this album?
LOOT was built in a dozen cities, but main nodes are my home studio in Barcelona, Indonesia, France, and New York City. There is a small group of musicians I'm working with regularly now, if I needs strings or a trumpet or whatever, know where to do for that. The two songs that feature the vocalist Nova were made in tighter collaboration, where we started with the vocal tune and I then came up with the rhythm, arrangement and instrumentation.
AAAmusic: You are embarking on a year-long tour as part of this release, do you enjoy being on the road?
I'm nomadic by nature; I've had to learn the value of staying in one place. But it does get tiring, not actually being new places, but the act of getting there often requires a lot of patience. Especially some of the more remote places I've performed… Siberia, Borneo, North Africa, there are lots of legal, cultural, and logistical hurdles.
The road does provide constant stimulation, never a dull moment.
AAAmusic: Where is your favourite place to play?
That changes constantly. But we can say the Mediterranean region: Spain, Italy, Greece, Tunisia, etc.. It's where I feel most at home. The people are warm-blooded and tend to understand this project in a more direct, visceral, way.
AAAmusic: What sounds influenced the style of this album?
It might be easier to make a list of what sounds didn't influence the album. There are rhythms looted from reggaeton to glitchhop, bass pressure a la dubstep, strings played in both western classical and arabic styles, percussion instruments from all over.
AAAmusic: Can you tell us what artists you are listening to at the moment?
Mexicans with Guns, Daoudia, 1970's turkish psychadelia, some Brostep, and a lot of old Javanese shit
AAAmusic: How does LOOT differ from your previous work?
Same philosophy as all the prior work, but have upped the sound quality and (hopefully) improved as a composer.  I did a lot more of the final arranging and mixing at home in Barcelona, so it has a more cohesive sound than the last two albums.
AAAmusic: You collaborated with vocalist Nova as well as cellists on this album, who would your dream collaboration be with and why?
I'm totally content working with the people that I'm already collaborating with. Almost did a featuring with M1 of Dead Prez for this record but just barely missed the timing, so perhaps that'll come on the next release. At some point I should probably plop down the cash and get a famous vocal featuring for hire… that's how most producers get their name blown up, but I probably will never get around to that- just doesn't suit me.
AAAmusic: What can people expect from your live performances?
Beats and bass pressure supporting live strings and percussion, and sometimes guest vocals. Elaborate synchronized video that is heavy on content, collages, and art, no empty eye-candy. There is a kind of batucada piece done on an amplified shopping cart.
Orna Lyons