A Chat With Triptykon's Victor Santura
aaamusic | On 27, Mar 2012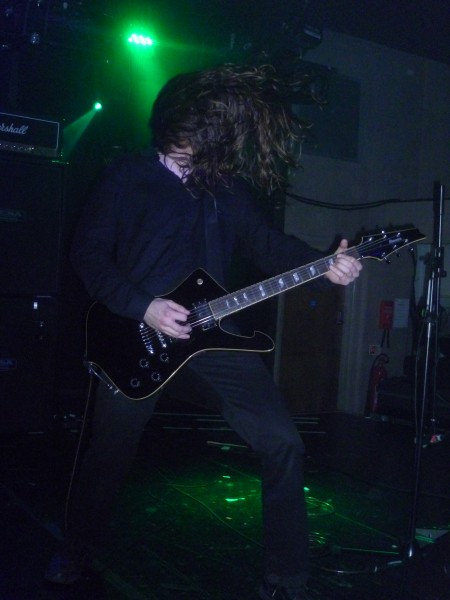 Daniel Cairns talks to Victor Santura about Celtic Frost and their influence on Triptykon.
AAAmusic: How does Triptykon differ from Celtic Frost in sound?  
Victor: This is a very interesting question, it's the first time that somebody has asked me that question,  basically Triptykon was formed with kind of  the intention to create a sound that is as close as possible to Celtic Frost so I think the guitar sound is basically identical but never of less we differ its a natural thing cause there is new people in the band and I actually think for example Norman has his own great sound as a drummer and doesn't sound like Frank and doesn't sound like Reed st Mark and it is always the individual playing that kind of creates the sound of the band so it's a natural thing that we do not exactly sound  like Celtic Frost never of less I think that Triptykon is in a way the next natural step to Celtic Frost,  So I think the sound is quite close. What if I was to compare 'Eparistera Daimones' to 'Monotheist' I think 'Eparistera Daimones' is maybe even darker and happier and I think some of the riffs are a bit more metal and more significant in a way but I also think that 'Monotheist' is a fantastic album with many interesting elements. I could not really say which album is better from an objective view.
AAAmusic: Which bands are the biggest influences on Triptykon?  
Victor: Well obviously of course our own history, especially Toms'history is the biggest influence on 'Triptykon' so it is Hellhammer and Celtic Frost and then of course everybody is listening to many various styles of music and in a way everything can be influential when it goes to songwriting, but I would still say the biggest influence is still Hellhammer and Celtic Frost. Well I think who influenced me, when I started playing guitar the bands that influenced me the most were defiantly just things like Slayer, Metallica and then I got quite strongly influenced by that 90's wave of black metal from Scandinavia especially bands like Emperor, Satyricon, Mayhem all interested me a lot. I think my favourite Mayhem singer is Atilla.
AAAmusic: You released  the album 'Eparistera Daimones' and the EP 'Shatter' in 2010 is there a plan for a new album in 2012?  
Victor: We are working on the album right now and I think we can finish it in 2012, but you maybe know there is  always a certain pre-roll time for record companies and for an album release. I think we probably will not release it in 2012 and it's more likely to be release early 2013, from the point we are at now. But it's just a rough estimation, we are just right in the middle of writing songs, so of course you can never predict exactly how long you will need for an album, because the most important thing about the new album is that it is extremely strong. We want to be 100 percent satisfied and convinced with it and we are going to work as long on that album until we are at the point we say now it's really finished. So if we need five years then we need five years but  it's not very likely that we will need that. We owe that to our fans and we owe that to ourselves, because   if you release something that is half baked you do not do a favor to anybody. You're just going to be completely dissatisfied by yourselves and it's bad for you, it's bad for the band and it's bad for everybody. You need to be very careful with what you do and we are trying to build the band up as an artistic masterpiece in a way. We will defiantly never release anything that we are not happy with.
AAAmusic: Tom G Warrior is one of the most respected men in metal what is he like to work with?  
Victor: I think he is amazing and actually a pleasure to work with I do not think that it is very complicated  working with him because we really respect each other. Everybody knows that everybody in the band has good ideas and contributes to the whole thing and Tom is always open for suggestions and he has great ideas, in a way surprisingly easy to create 'Eparistera Daimones' and it's going to be the same way creating the next album.  I think of course many people consider Tom G Warrior as a legend. I think he kind off hates it and he feels slightly embarrassed of that. In a way he has to live with that I guess. It's for sure that Tom and Celtic Frost were extremely influential for many bands that came after so that is how they gained their status.
AAAmusic: Triptykon are playing a very special show in Abtenau, Austria can you tell me about that?  
Victor: Yeah I have already been at that venue and seen it. It's something like a mountain lodge it's a wooden hut in the mountain side in the high alps of Austria close to Salzburg there is a great vue, theirs a great panorama and it's in such a mountain lodge. It's going to be limited quite stickily it's only for 300 people and there is going to be big fires and a kind of  celebration of summer sulstus and I think we are going to play quite a special setlist at least 90 minutes, just the whole ambiance around that show will be very, very special. If there are still tickets you need to get them quickly cause it's going to sell out. There is a kind of buzz around the show there are people coming in from many different countries. The date of the show is Saturday 23rd of June and it's going to be amazing. You can get their by car or maybe they organize a shuttle, that you park you cars at the foot of the mountain and they take you upto the top. I really looking forward to that show because it's a kind of bizarre setting its not really a classic live location, and not so perfectly equipped and I think that the   whole ambiance of that is the most important thing. We don't plan to record it for a DVD we have other plans for filmed recording its just going to be a live thing.
 AAAmusic: You are playing the Destroyers of the Faith touring mini festival and I see you're playing 'Inferno' too. Tell me about what other festivals you will be playing?  
Victor: Besides 'Inferno' we are going to play the Metalfest in Europe which is basically eight festivals and then we are going to play a festival in Switzerland and we looking at other gigs but the point is we played most of the big festivals in 2011, like Graspop, Wacken, Hellfest and Bloodstock and you can't play these festivals every year so maybe 2013 we are going to play big festivals again, never or less, playing all thou's Metalfest is such a great thing.
AAAmusic: H.R. Giger did the artwork for your first album, did you approach him or did he approach you and how did you describe what you wanted for the cover?  
Victor: Tom and Giger are working close together and they are really good friends. I think 'Tom' actually asked Giger if it would be possible to use the album 'Blood Techie' which became the new album cover 'Eparistera Daimones'.  And Giger was really into that idea and Giger is quite happy in how he used it and the booklet. Which is weird in away and amazing that we had the opportunity to work together with such an outstanding artist. And it goes together  with the music perfectly and it is a privilege to work with one of the most important artists of our time and it is just creates the atmosphere that his paintings express so worked perfectly with Triptykon's  music it could not be   better.
AAAmusic: You have a very distinctive sound how do you create it and are you going to change it on the next album?  
Victor: Well of course the next album is not going to sound exactly like this one 'Eparistera Daimones' I think it could even sound better, I basically mixed it together with Tom in my studio and since the last mix I have learned more as an engineer so I think we can make an even better sound. It's going to be richer and heavier, I never  the less think 'Eparistera Daimones' has a very good production already. Of course Triptykon have a very unique guitar tone which in a way of course is 'Toms' guitar tone and was also very characteristic to Celtic Frost and I think that guitar tone is so characteristic cause of certain things we do technically and it's the gear and the equipment   we use, How we adjust it of course and it's also the playing style and the attitude. We are not going to change that I felt very comfortable learning his technique and it felt very intuitive for me. I already had played in Celtic Frost  as the live guitar player 2007, and they were seeming to have a hard time to find a guitar player that could create that guitar tone and then they asked me, So I went to Zurich and prepared myself very well and just did a test rehearsal  and they were convinced I was the right one. Tom always said when he heard me play for the first time it sounded like 'Celtic Frost' which was the biggest compliment he could give me. In a way I thought I could do it somehow to Instinctively. So I did not have a hard time, never or less their are small details, I do not have exactly the same tone like but it's close enough. I've been in a few bands but the band I have always been in since eleven years that I am still in Dark Fortress.  I did not leave that band it's still active, I've done five albums with them I have a strong input into the songs and I do the production so its good thing to be involved in.
AAAmusic: Ibanez sponsors you can you tell me about the Triptykon signature models?   
Victor: I think the Ibanez Icemans are in a way the Triptykon guitars with the classic sound. Not all Icemans have the same pickups we have thou's with the AH1, AH2 pickups and thou's are the pickups we need to create our sound and  of course another thing mandatory is the 'Ibanez' tube screamer and we go straight into the Marshall JCM 800 and that is the sound. Tom has the one's with the Giger artwork on them. Since yesterday night when I was given the idea of maybe doing a signature pedal. We close the tone parts which could be created in a pedal with a switch this is   really important for our sound, maybe a foot switch would be good.
Author: Daniel Cairns