Zebra & Snake – Money In Heaven video and album announcement
aaamusic | On 27, Mar 2012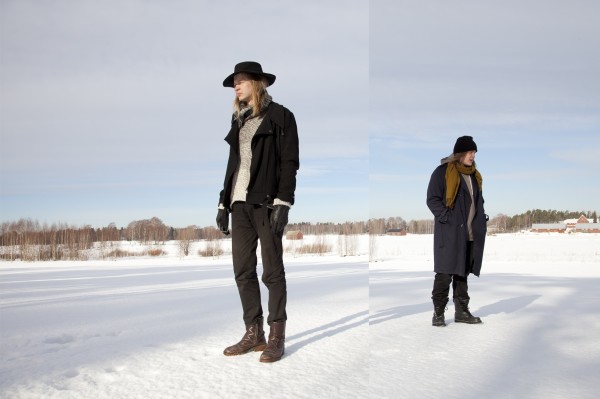 Zebra and Snake are Finnish-born Tapio (Vocals/ synths) and Matti (Bass/ Backing vocals/ synths) – two friends who've converged from very different starting blocks to unite in gloriously warm, electronic technicolour.
Originally from Alajdrvi – a town "so small that everyone knows each-other" – the pair had been long time friends but never musical collaborators. Matti spent his sonic upbringing developing a self-diagnosed "synthesizer fetish" and playing in a group predominantly influenced by Bjvrk, whilst Tapio came from a wholly – or should we say holy – different background altogether. Born into a family of religious Lutherans and with a brother entering the priesthood, the singer grew up on a farm, listening solely to classical music. Ultimately though, the restrictions of the Lutheran lifestyle proved disenchanting; "I'm too curious to settle for that and continue with what my parents do", he explains, "but it wasn't until I moved to Helsinki for university that I thought it'd be fun to form a band."
When Matti also moved to the city in 2007 things suddenly clicked into place. As the bassist explains, "I was playing in another band and we had all our equipment set up. Tapio came over, we started improvising and thought 'Yeah, this is cool' so we just carried on developing it.". Fuelled by a shared love of Fleetwood Mac, krautrock and ambient electronics, the duo's progress was slow but steady, forming the foundations for what would later become 'Healing Music'. "We needed time to get it sounding classic and timeless," enthuses Tapio. "We tried a lot of different stuff, but now we're at a point where it sounds like something that's totally our own".
The point they've reached is an exciting one indeed. Shot through with shimmering, 80s electronic inflections, but with a core that's tangibly human and filled with the wide-eyed awe of stepping into the big city, Zebra and Snake's debut is danceable and catchy, but with an audibly beating heart.
"It's pop but then it's healing music – that's an idea that's carried through every song" say the band. "In the background there's always something healing or comforting. The atmosphere in our music connects with that phrase; it's like a beautiful place that's happy and safe but where there are hidden tragedies."
Whether on 'The Colours', on which Tapio forlornly repeats "when you're not ok / I can't say it's ok", or on the cowbell- toting earworm 'Burden' with it's uplifting spiral of synths set against stark lyrics about loneliness, the pair's heartfelt manifesto rings true throughout the record. They mix tragedy and ecstasy into a uniquely humane brand of pop music. 'Sweetest Treasure' begins with skittish, dappled beats before unfolding into layers of choral coos and propelling synth rhythms, coining another jubilant central hook amidst the electronic experimentation.
The result of two years' work – recorded in the snatches of time available at Berlin's Kaiku Studios and constantly evolving – 'Healing Music' is both a labour of love and an impressive marker of just how far the Finnish duo have come. "It was strange because we'd never made music together, and you see a different part of someone then," explains Tapio, "but we have the same perspective on things, so when it all came so easily and naturally".
After setting their stall with blog favorites Empty Love Song and Burden + their debut EP Sweetest Treasure Zebra And Snake are now set to release their first single Money In Heaven on May 7th.
Money In Heaven' comes in like a modern take on Prefab Sprout's classic 'Cars & Girls' – lacing dreamy washes of synths with pure pop melodies and an effervescently catchy chorus indicative of the duo's overall pop aesthetic. The quasi- religious lyrics are a nod to vocalist Tapio's upbringing and this religious imagery is carried over to the video – the treatment having been written by the band.
In addition to the original version there will be three Money In Heaven remixes, two by their Finnish friends Helsinki 78 82 and Renaissance Man and another by Kashii.
Zebra And Snake have confirmed The Great Escape on May 10th and will be lining up further UK dates – to be announced.