Evans the Death album out on Monday 2nd April + launch gig on (5th April)
aaamusic | On 01, Apr 2012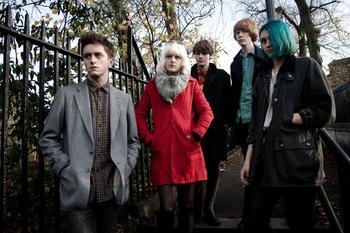 Evans the Death are all set to release their self-titled debut album on Monday 2nd April 2012 via Fortuna POP! in the UK / Europe and Slumberland Records in the US. Filled with twelve blistering tracks they weave a distinctive magic, coupling main songwriter Dan Moss' gift for melody with Katherine Whitaker's unique vocal mannerisms. The songs both document and channel the exuberance of youth via the prism of five pop music obsessives and were recorded late Summer 2011 with producer Ex-Test Icicle and current Warm Brains man Rory Atwell (Veronica Falls, Male Bonding, The Vaccines).
To celebrate the album coming out the band will be holding a FREE album launch gig on Thursday 5th April at the Seabright Arms in Hackney, East London.
EVANS THE DEATH – album launch gig! – 5th April
Seabright Arms, 34 Coate St, London E2 9AG, Off Hackney Road
doors 7.30pm FREE ENTRY
No bands after 11pm. DJs til 12
If you can't make it to that then they'll be playing various gigs and festival over the coming months.
Forthcoming Dates:
13th April – Old Blue Last
6th May – Camden Crawl – This is Fake DIY Stage
6th May – Wagon All Dayer – Queens Head Islington
2nd June – Long Division Festival, Wakefield
5th June – White Heat – Shrag Album Launch
6th July – Indietracks
http://www.facebook.com/evansthedeath