Hatcham Social – About Girls
aaamusic | On 01, Apr 2012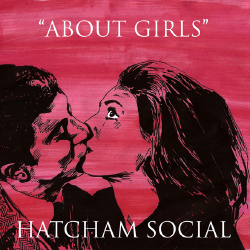 Is it about girls? Pretty much yes, but what else is happening in Hatcham Social's latest album seems to be the logical conclusion of listening to Psychedelic Furs, The Jesus And Mary Chain, and any number of pop-punk bands I'm not so qualified to name-drop. Lovelorn, lovesick, and full of a new wave poppy bounce, this is something I'd guess will be the summer soundtrack of a few people.
Opener 'NY Girl' has the jaunty bassline and crunchy guitar sound of a big old rock anthem, but the skittery drums and melodies from a Psychedelic Furs record, and the nervy vocals of modern indie, combining the self-consciousness of post-punk with the technicolour appeal of radio rock. But after throwing a real attention-grabber of an opener, Hatcham Social make us guess again at what's going on with 'Nichola Tells Me', a slow ballad that bring to mind a less challenging Bowie at his poppiest, crossed with the slow dance from a teen high school movie prom scene. It's this twosome that set the scene for the album: half of it is a sort of 80s indie, somewhat indebted to New Order and definitely following Futureheads, and the other half is a hushed, almost dream-pop teen movie, for better like the kooky yet enjoyable guilty pleasure of 'Dance With Me' with its luxurious guitar sound and sparky energy or in the case of the soporific, lilting but half-asleep and repetitive 'Invention Of Air', for worse.
The main problem is that while Hatcham Social have the tunes, the album as a whole feels a bit repetitive. The darker tones of 'Like An Animal' could really go down well, and as a single is an excellent choice, but when bookended between the chipper, nearly cartoonish 'Louis Lane' and the moody 'Shut Your Mouth' with its squalling buildup and aggressive yet playful guitars means that it can't quite escape and find the appeal it does in fact hold, and ditto for 'Shut Your Mouth'. Both are easily the standout tracks, but the similarity of the tracks in general mean they lose the spark they undeniably hold.
'Little Savage' is possibly the exception. Yes, it is pure pop in several respects, with a jangly guitar riff and danceable bassline, with the band's by-now familiar skittering, snare, cymbal and hi-hat heavy percussion, and a stupidly catchy chorus. The guitar solo too is a gently psychedelic cut of sunshine, and the lyrics and vocals balance bitterness and smiles with aplomb. Close follower is the borderline Interpol-isms of the brooding disco number 'Escape From London', which taps into an infectious and intriguing darkness lyrically and musically with some rather good bass/guitar interplay. In fact, the latter half of the album has possibly more going for it, with the following Adam Ant/Talking Heads 'Would You' making sure things don't get too sober with a daft synth in its chorus and galloping pseudo-tribal rhythms, all held together by whistled melodies and vocals that sound like the singer might actually be enjoying himself. And 'All Summer Long' is a sneaky treat, in a sort of Ash teen pop kind of way, with deceptively well-written instrumental parts. It's a shame that closer 'Stick Together' is so nonchalant, and in a scrappy way that almost feels like a last-minute addition to the album.
Hatcham Social aren't bad, I just think that 'About Girls' is a solid example of another band that in an ideal world would take Ash's route and release a string of singles rather than a full-length. Quite a few songs on here are individually great, it's just that thirteen of them all at once become arduous, and I can't help but feel that there's some filler drifting around, especially in the earlier half of the album. Flawed, but by no means hopeless, I hope that they are able to write a more diverse album next time, or perhaps find a way to focus on smaller releases that suit their short-bursts song style.
Katie H-Halinski
——————————
"About Girls" is the second album by London Quartet "Hatcham Social" due to be released on the 2nd of April 2012 by Fierce Panda. As the follow up to their debut " You Dig the Tunnel, I'll Hide The Soil" this album sees the band move slightly away from the synth speckled sound to a more raw album that the band say is "less layered with more concise lyrics which are more playful and honest and from real life".
The album opens with "NY girl" a grungy indie song with a heavy use of guitars and a steady drum beat keeping the energetic vibe of the track throughout. At many points during "About Girls" Hatcham Social have a retro sound that is reminiscent of the 90's Brit-pop era. This sound can be especially heard on tracks like Escape from London" and "Nicola Tells Me" and "Lois Lane". The repetitive guitar riffs, punchy choruses and moody vocals remind me a little of Blur. "Shut Your Mouth" is a cheeky sort of a song with typically tongue-in-cheek lyrics such as "You better shut your mouth now/ These are the golden days"
The funky syncopated rhythm keeps the song interesting and succeeds in making the track instantly catchy. "Shut Your Mouth" is definitely one of the highlights on "About Girls". I would have perhaps liked to hear a few more songs on this album that manage to capture the quirkiness and fun of this band.
Orna Lyons
★★★★★