Look, Stranger! – One for the King EP
aaamusic | On 01, Apr 2012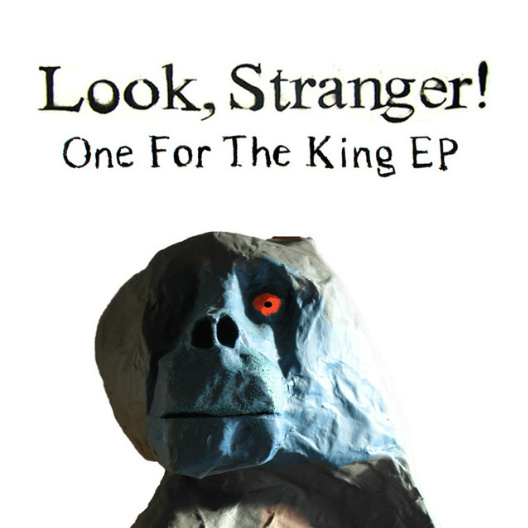 Look, Stranger are a spacey four-piece referring to themselves as 'a vision of the future from the past'. You can see where they're coming from with this, especially on title track, One for the King. 80's synth and trippy guitar accompany intergalactic vocals to form something that sounds like the past's idea of the future. Look, Stranger! Present some clever song writing with surprisingly catchy vocal and guitar hooks, and the all important infective chorus. The title track is easily the best song on the EP because of this. It's the sort of song that'll be swaying around your head whether you like it or not.
The retro and the futuristic are both channelled at once throughout the album. Following the Leader slips into a slower-paced synth-pop that'd make for pretty good ambient music in a cloudy spaceship disco. Neon People fits the same scenario, with a hazy, electronic trance-like feel. It's interesting, but over the course of the song it sometimes feels easy to lose interest as it fades into the background after an exciting intro.
The second and third tracks drag the overall EP down. It doesn't feel terribly unique; it's quite comparable to the kind of music acts like Jesse Ruins produce and doesn't feel too dissimilar from bands such as Saturday Night Gym Club: a spacey dance-pop style that's been done before.
She Will Not Rest adds some variety with a slightly spooky piano, lower pitched vocals and gloomy harmonies. Unlike the previous two tracks, it's intriguing for the entire duration; there are lots of interesting details in the closing of the song, like the addition of percussion and effects. The song gives the atmosphere of an ethereal ghost; it's the most dramatic on the EP and makes for a great closure. It's as it should be, the beginning and ending of the album are the most powerful, although quite juxtaposing.
Overall, an interesting EP which shows potential. A good variety of sounds, with a catchy start, ambient middle and a unique ending. Although you might not think you like them at first, they kind of grow on you. They remind me of another band, called Maia, in areas. Both sound fairly experimental, diverse and slightly otherworldly. Check them both out.
http://www.myspace.com/lookstranger – Look, Stranger!'s Myspace
http://www.myspace.com/maiatheband – Maia's Myspace