pacificUV – Weekends
aaamusic | On 01, Apr 2012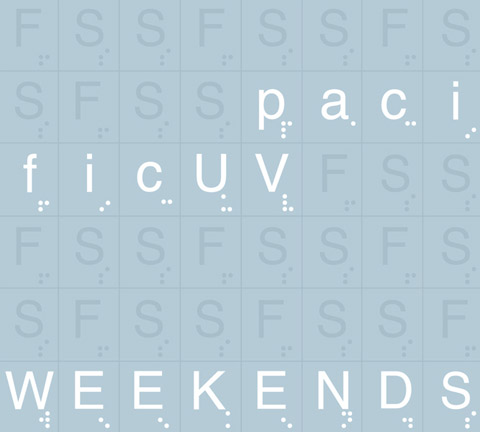 Clay Jordan formed (with ex members Howard Hudson, and Lucas Jensen) the Pacific UV in Athens, Georgia about ten years ago. The name, as Clay admitted, comes from a Jesus and Mary Jane song – first hint – and the Pacific area where he wanted to live. He doesn't actually like the sun very much.
Fourteen years to release just three LPs, giving an interesting contribution to what is called post-rock, dream-pop and space-rock. Well, put all these sounds into the frame of shoegaze. Indeed, we've had to wait four years for the new work that followed that remarkable record entitled Longplay 2.
Weekends, is a 40 minute album divided into three moments: Saturday, Sunday and the end of the weekend. I'm not so sure it can be considered a concept album.
Each moment is introduced by a short intro, the dream of the night before. Friday Night Dream, Saturday Night Dream and finally Sunday Night Dream, before another weekend, another dream, or better, a nightmare will start again.
It's a story of heartbreaks told on a space ship. It's when you close your eyes and you just wish you could forget everything and unplug your brain.
I play the first track, Friday Night Dream, and I find myself in a nocturnal galactic journey, the ambient minimal synth, the slow (heart) beats, the delicate arches. My eyes begin to rest when suddenly the faster dancing start of the hit song Funny Girl kicks in:
|This song is not for you |Ok, maybe that's not true | If I love you or hate you depends on my mood|
The lyrics are, indeed, quite simple. It's over, they are falling, and this is the best track of the album. The grooving structured electro-pop mixed with synth beeps and winks is a carousel of sounds ready for tonight's indie bar dance floor.
The following Just4kix takes us to more reflective areas of pure dream-pop (see Beach House) before sinking us into the ethereal ballad Baby Blue. It's Saturday, your partner is gone and you just don't want to move your body.
The fifth track, I'm Here (But It's Not Me) intertwines an interesting bass line with drum beats and the soothing vocal and fades out into an unexpected postmodern electronic song (see New Order) pulsing insistently and echoing Daft Punk and Kraftwerk. Take it or leave it. Ballerina it's a vocoder abuse, a robotic monster that between the lines of the album represents the soul of the whole work. |Turn your sadness into sound|.
Another night, another dream and we enter into the second moment of Weekends. High is one of the highest moments of the album. Emotional, it's solemn orchestral arrangements supporting the weeping repeated |I get high off you|.
Our Sunday unfolds Be My Only Shallow Love, (hey, My Bloody Valentine?), a brilliant danceable shoegaze tune and the slow Going Home. We sleep, it's the last night of the Weekends and Unplug Me is the end to our space ship orbiting.
Embracing forms of electro-pop and danceable beats, pacificUV will probably reach a wider audience with Weekends and undoubtedly Funny Girl will be a top hit for 2012.
Pietro Nastasi