Seth Lakeman – Tales from the Barrel House
aaamusic | On 01, Apr 2012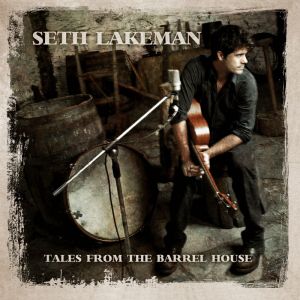 Seth Lakeman is an English folk artist and multi-instrumentalist hailing from rural Devon. Tales from the Barrel House sticks close to Lakeman's rustic roots to produce an earthy story of the everyday workman. And armed with a fiddle, a guitar and a dandy banjo, Lakeman is truly an artisan of his genre.
Recorded in west country workshops and even an old copper mine, the album retains a raw essence to it. Blacksmith's Prayer and the Watchmaker's Rhyme are epitomes of what it is Lakeman strove to create, a story of the everyman.
Blacksmith's Prayer juxtaposes the narrative lament of a sooty-lunged labourer with the strong and empowered workman. Lakeman's song-writing is shown at its best here, wonderfully capturing the voice of a profession and creating the image of a story so vividly; you can practically taste the smoke in your throat and smell the hot metal on the forge.
'Burnt brittle hands like gathering dust, my pounding soul has lost its thrust.'
The lyrics make for some evocative story-telling alongside bruised violin and banjo riffs.
The Watchmaker's Rhyme is catchy and as rhythmic as a well-working pocket watch, yet retaining the rich imagery of Blacksmith's Prayer. However, Watchmaker's Rhyme is violin based with a tinge of guitar. The chorus is incredibly catchy and is quite possibly the best on the album. Tales from the Barrel House takes what might not sound like a great concept for a song and makes it just that. It shows the potential to be found in everyday life.
The Sender is a love song with sky-soaring violin, adding some variety, while still keeping the atmosphere of the rest of the album. In addition to blacksmiths and watchmakers, in the rest of the album Lakeman also introduces us to fisherman in Salt from Our Veins, tin miners in More than Money, cider-makers in Apple of His Eye and carpenters in the Artisan. The songs are fervent and heart-felt; the album showcases both Lakeman as an expert musician and a brilliant songwriter and narrator. A wondrous fusion of folk and rock.
Rose Benge