The Destroyers – Hole In The Universe
aaamusic | On 01, Apr 2012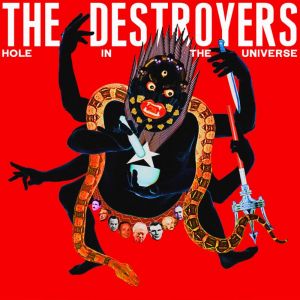 There is no messing with The Destroyers. Right from the get-go, 'Hole In The Universe' slams into full speed with 'Honga Bulgar', which sways from ponderous brass-led dance into a whirling maelstrom of Balkan sound, with whispers of dirty swing jazz and even hints of rock spirit, and that's just the opener. Once we hit the title track, there's a real sense of spirit afoot: if Gogol Bordello and a jazz fan sat down to write 'Monster Mash', this might be the result, although there's a sophistication here too that isn't quite covered here: there's a party here, but it's a party where everyone arrives in their finery and bearing conversational gems before debauchery sets in. And Red Tape blends a Django Reinhardt gypsy guitar slickness with punk ethos poetics and a lunatic brass band. 'Rasputin's Revenge' too is musically insane, a salsa klezmer Eastern European number that goes down smooth and hot as neat whiskey, or should that be vodka? Either way, it makes you want to dance to its mind-melting flurry of tempo shifts.
It's annoying that my go-to comparison is Gogol Bordello, because like I said, The Destroyers have a shambolic sophistication to them that in many ways resembles any number of Nick Cave projects. The music is structured, and vocals sound like the man in question wears a velvet smoking jacket out of habit talking incredibly observantly about the rather ridiculous and occasionally horrific things people do, and then it all goes mad. Take 'Sissyphus': Classical mythology, modern-day frustrations, and a luxurious, sinister, fiery Balkan backing. Or 'Sycamore Drive', a slinky, almost seductive dance with sinister overtones and wild woodwind melodies blending with the spirited fiddling and heated brass, with pitchblack political lyrics coming like a sledgehammer. Or the seething noir murder story 'Diamond Jones'.
But it's not all dark: 'Tuba Song' is unavoidably political but damn fun at the same time, a great tongue-in-cheek look at freedom of creative expression. Neither is it all so frenetic: out of nowhere comes 'Underground', a beautifully elegiac piece reminiscent of classical music with a depth and clarity that makes it a complete work in its own right, and a fully-realised treat for the ears, same with the flowing mastery of melody that is 'Black Cat'.
To close, 'On The Moon' brings us back to the manic Balkan swing that The Destroys spice up their album with, equally cartoonish and cutting, with moments heading towards a psychedelic Beatles tone of all things, one tinged with dark folk music storminess.
'Hole In The Universe' is a strange, strange album. If you enjoy suave social commentary backed by some incredibly skilled musicians who manage to blend pretty much everything from Moseley to Moscow and back again in one incredibly appealing package, you will love The Destroyers. And if you've never heard anything like it before, you really should.
Katie H-Halinski