The Swords of a Thousand Men (as featured in the film The Pirates!)
aaamusic | On 02, Apr 2012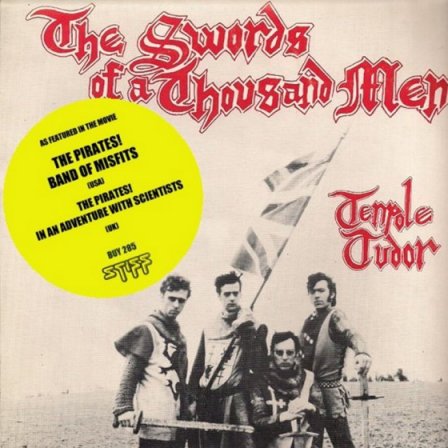 A Stiff Records classic – The Swords of a Thousand Men by Tenpole Tudor is the opening theme to the biggest new movie last weekend in the UK (and set to be the biggest animated film of the year), The Pirates! In An Adventure With Scientists!
The Pirates! is the latest from Aardman Animations (Chicken Run, Wallace & Gromit, Flushed Away) and features the voices of Hugh Grant, Salma Hayek and David Tennant. Pirates trailer HERE
The opening theme is Tenpole Tudor's The Swords of a Thousand Men, which Stiff is reissuing as a special five-track EP on iTunes and Spotify.
The EP features new artwork, a newly remastered Swords, the original UK and US B-sides and two live tracks: Fashion (recorded at The Marquee) and the band's other monster hit, Wunderbar (recorded on the legendary Son Of Stiff Tour).
The movie opens in the US on April 27th, 2012 under the name The Pirates! Band of Misfits. The Swords of a Thousand Men EP is available here: