Fozzy announce UK shows & Chris Jerciho to host Metal Hammer Golden Gods Award
aaamusic | On 08, Apr 2012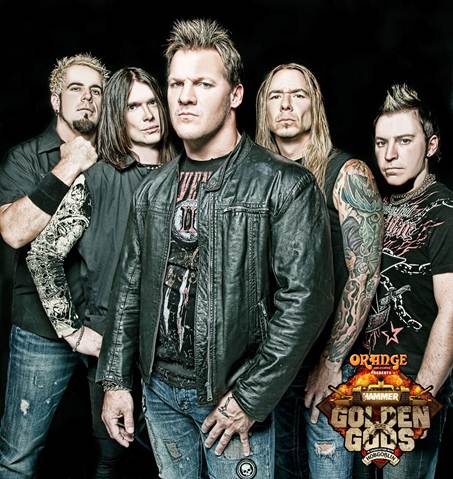 As a kick-off for the live cycle of their upcoming album, Fozzy will play the legendary Download Festival this year, two exclusive club shows with Ugly Kid Joe and Soil, and the Metal Hammer Golden Gods Awards in the UK – which lead singer Chris Jericho will be hosting as well!
6th June 2012 (UK) London – Underworld (with Ugly Kid Joe)
7th June 2012 (UK) Wolverhampton – Slade Rooms (with Soil)
9th June 2012 (UK) Donington Park – Download Festival
11th June 2012 (UK) London – Metal Hammer Golden Gods Awards (riverboat performance) Indigo (O2 Arena)
The brainchild of Chris Jericho and Rich Ward, Fozzy, was formed a decade ago out of a passion for hard rock and heavy metal and has transformed into one of the world's most electrifying bands.
Lead singer Chris Jericho is an entertainment icon: a talented musician, television personality, radio host, writer and actor. He has achieved legendary status as one of the WWE's most acclaimed superstars, penned two New York Times best-selling autobiographies, was a finalist on ABC's hit television show "Dancing with the Stars" and has become an accomplished singer over the last 13 years, even being included in Revolver Magazine's list of the Top 100 Living Rock Stars. In April he will be in Europe for a WWE Raw tour before returning to the UK with FOZZY in June. Guests of the Metal Hammer Golden Gods Awards can already look forward to an entertaining and charismatic host…
Chris Jericho: "After hosting the Golden Gods awards in the US for the last three years in a row, I'm totally stoked to host the Metal Hammer Golden Gods awards and to bring my ridiculous metal knowledge and even more ridiculous sense of humour to all of you nutters in the UK! I'm also excited to return to Europe with the WWE in April, where even though I play the nastiest of villains, it's always a blast to hear the "FOZZY" chants coming from our European family, as I'm getting booed out of the building by 10 yr olds!"
Fozzy will release their Century Media debut worldwide in the late summer of 2012. This, their sixth album, will be the follow-up to their acclaimed 2010 release "Chasing The Grail", which saw them tour 15 countries around the world and perform in cities from Los Angeles to Lichtenvoorde, including an appearance alongside metal's Big 4 – Metallica, Slayer, Megadeth and Anthrax – on the Knebworth Sonisphere UK, and a string of dates on the 2011 Rockstar Energy Drink Uproar Festival headlined by Avenged Sevenfold. The above mentioned shows are just a hint of things to come – Fozzy have already confirmed extensive worldwide touring in support of their upcoming album.
Rich Ward (guitars): "Although every band says "this is the best thing we've ever done", I can honestly say that this new album is going to blow everyone away. It's the epitome of who FOZZY is as a band and will expand upon the ultra-heavy yet super melodic and hooky territory that we've refined for the last 12 years. I have a strong feeling that this will be known as our definitive masterpiece for years to come."