Knox & Oberland performing 'The Rustle of the Stars' (April 10th-15th)
aaamusic | On 08, Apr 2012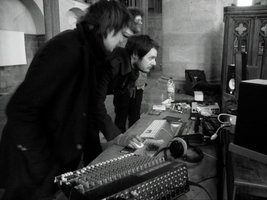 From 10th April 2012 (full dates below) Richard Knox and Frederic D. Oberland will perform 'The Rustle of the Stars' live for the very first time. Joining them on stage will be Angela Chan and Lidwine.
'The Rustle of the Stars' was first released in November last year on limited edition vinyl and will get a CD release on May 7th 2012 through Gizeh Records. You can listen to tracks HERE
450 km from the arctic circle, The Rustle of the Stars is a phenomenon of austere beauty, a barely audible noise that occurs when the draught from human breath causes multiple collisions among the ice micro-crystals in the air.
APRIL 2012:
10th – LEEDS
Fox and Newt, 8pm
support: Jasper TX and Matthew Collings
11th – EDINBURGH
Wee Red Bar, 7pm
support: Jasper TX and Matthew Collings
12th – MANCHESTER
Sacred Trinity Church, 8pm
support: Jasper TX and Matthew Collings
14th – LONDON
Vortex, 8pm
support: Clem Leek and Anna Rose Carter
15th – BRISTOL
Church of St John the Baptist, 6pm
support: Christoph Berg, Olan Mill, Daniel Thomas Freeman