School of Seven Bells release new single 'The Night' (21st May)
aaamusic | On 08, Apr 2012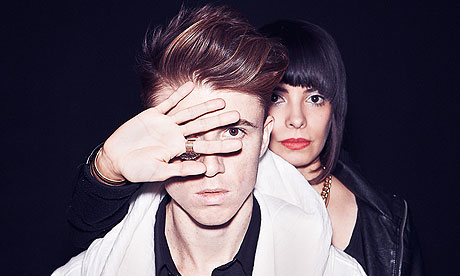 Since the release of their new album Ghostory earlier this year, School of Seven Bells have been enjoying a run of touring across Europe and America showcasing the new material and of course, new line up.
Their forthcoming single 'The Night' (21st May 2012) was originally released as a free download at the back end of 2011 to announce the new album. Also the opening track on Ghostory it perfectly encapsulates the tone of their highly acclaimed third offering.
The single will be available digitally with the full bundle comprising of a Siouxsie Sioux cover, 'Kiss Them For Me' and the brilliant Scissor Sisters remix of previous single 'Lafaye'.
Single tracklisting:
1. The Night
2. Kiss Them From Me
3. Lafaye (Scissor Sisters Remix)
To compliment the release of' 'The Night', School of Seven Bells are the latest artist to partner with Genero.tv, who have also run music video competitions for Moby, David Lynch, Alicia Keys, Royksopp, Bombay Bicycle Club, Band of Skulls, The Temper Trap & Booka Shade amongst many others. Their videos have been screened on TV, at Coachella music festival, at the BFI in London and ACMI cinemas in Melbourne, as well as a host of film festivals.
Genero.tv is a platform that gives filmmakers the opportunity to make the official music videos for featured artists and songs. While championing filmmakers from around the world and helping expose them to the international music industry, it also seeks to revolutionise the way artists connect and engage with their fans. They allow the global creative community to make and upload their own music videos for the world to watch, vote on and spread virally.
Competition dates:
• Opens: Apr 3rd, 2012
• Closes: May 8th, 2012
Please visit genero.tv/schoolofsevenbells for all the competition details!
July 2012 live shows:
14/07 – FIB 2012, Benicassim (Spain)
17/07 – Kilden Supersonic, Kristiansand (Norway)
19/07 – Thekla, Bristol (UK)
20/07 – Slade Rooms, Wolverhampton (UK)
21/07 – Deer Shed Festival, Thirsk (UK)
22/07 – Stereo, Glasgow (UK)