Springfestival 2012 (Amon Tobin, Luke Slater, Scuba and more!)
aaamusic | On 08, Apr 2012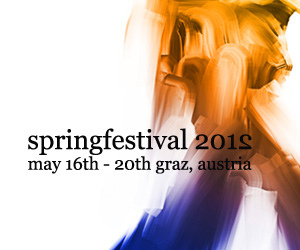 Springfestival is back May 16th – 20th 2012, taking over the beautiful World UNESCO Heritage and UNESCO Design city of Graz
New names announced include Amon Tobin's ISAM headlining the opening night, and Black Strobe (Arnaud Rebotini), Luke Slater, Scuba confirmed too
Label parties include Ram Records, Red Bull Academy and Machine Night
Take part in 5 days and 4 nights of global electronic music and inspiring enrichment through the Springessions conference
Spring is coming, check the new video HERE
With just weeks to go, Springfestival will soon be kick-starting the festival season off across the whole of Europe. The leading electronic urban event, which takes over the wondrous UNESCO World Heritage and UNESCO City of Design, Graz, takes place in many stunning venues including the Dom im Berg cavern venue to the vaulted grandeur of the Stadthalle. Featuring clubs, live spaces and the warehouse environments, sound-tracked by some of the world's leading live acts and DJs, Springfestival is a mix of inspiring electronic music, art, design and technology, with enriching debate at the Springsessions conference. Graz features Michelin starred-restaurants, chic shops and an abundance of culture in its myriad squares, plazas, winding passages and urban spaces.
Springfestival has just announced more names and revealed its full programme which can be seen HERE. Opening the festival is Brazilian Amon Tobin's ISAM, a stunning show which is already touring the world. This visual and aural segueing features Amon within the central cube using real-time projection mapping and audio-reactive elements to create a unique feast for the senses which has already won him huge acclaim.
On a techno tip, there's some fierce sounds in store from Luke Slater aka Planetary Assault System, Rolando, Ben Sims and DJ Surgeon who converge under the vaulted roof of the Dom im Berg cave for Machine Night; expect seismic beats and pounding bass from start to finish.
Berghain regular and Hot Flush exponent Scuba also stars; the UK-born DJ and producer is one of the hottest talents around right now, and his recent mind-bending 32-track DJ Kicks mix showcased why everyone he is in such demand. And Black Strobe's Arnaud Rebotini also stars. The French musician has an esteemed career, with his recent Someone Gave Me Religion album showing his critically attuned ear is still razor sharp.
Other parties including Gilles Peterson who curates two shows, one electronic, one jazz; Ram Records offer up some of the finest drum and bass sounds; Berlin Calling unites AKA AKA and Format B live; the Heineken Arena introduces the UK's Little Boots back into the live fray along with The Shoes, Modeselektor and those French producer fancies, Cassius; and the closing night on Sat 19th sees Skream & Benga feat. Youngman & Sgt. Pokes, Ms. Dynamite Live, Toddla T Sound Live and Foreign Beggars Live all under the Stadthalle roof for a huge show of UK talent.
The Lineup So Far:
Skream & Benga feat. Youngman & Sgt. Pokes, Cassius, AKA AKA live, Modeselektor live, The Toddla T Sound, Format B live, Foreign Beggars live, Boy8bit, Drumagick, Mixhell live, Dillon live, Little Boots live, Elektro Guzzi live, Munk live, Florian Meindl live, MJ Cole, Yuksek, Vitalic, Alle Farben, Mr. NÔ, Huoratron live, Andrew Weatherall, Solomun, Drums Of Death live, Paul Chambers, Andy Butler (Hercules And Love Affair DJ-Set), Susana Sawoff live, SAEDI live, Black Strobe (Arnaud Rebotini)
Selected Special Events and Label Nights…
Electronic Beats Springfestival Opening Night – Helmut List Halle – Weds 16th May
Amon Tobin's ISAM
Wolfram
Zvonko
Ram Recordings Night – Dom in Berg – Weds 16th May
Delta Heavy
Loadstar + Texas
Wilkinson
Hamilton
Cyantific
Ray Rampage
Red Bull Music Academy Night – Postgarage – Weds 16th May
Scuba
John Talabot
Axel Boman
Patrick Pulsinger
DJ DSL
Kool Clap
DJ Elwood
Mixhell Presents – Dom im berg – Thurs 17th May
Mixhell live
Paul Chambers
Mr.NO
Huoratron
Black Strobe (Arnaud Rebotini)
Elektro Sagl
Gilles Peterson presents Electronic – Helmut List Halle – Thurs 17th May
Bad Bad Not Good live
Dimlite live
MJ Cole live
DJ's
Mala
Gilles Peterson
Gilles Peterson presents Jazz – Dom im Berg – Fri 18th May
Matthew Halsall live
DJ's
Gilles Peterson
Patrick Forge
Ogris Debris
Visuals: Swifty
Tiefparterre Night – ppc – Fri 18th May
Drumagic live
DJ Hype
Scratch Perverts
feat MC Dynamite
Monkeytown Label Night – Postgarage – Fri 18th May
Modeselektor DJ Team
Lazer Sword live
Siriusmo live
Anstam
Exploited Rec. Night – ppc – Sat 19th May
Shir Khan
Cocolores
Adana Twins
Joyce Muniz
Machine Night – Dom im Berg – Sat 19th May
Luke Slater aka Planetary Assault System
Rolando
Ben Sims
DJ Surgeon
Kirk Degiorgio
Closing Party – Heineken Arena – Sat 19th May
Skream & Benga feat. Youngman & Sgt. Pokes
Ms. Dynamite Live
Toddla T Sound Live
Foreign Beggars Live
Electrosacher
Visuals by Mox
Springsessions Conference:
Back for its second year, Springsessions 2012 will gather some of the brightest minds from around the world in the digital space to deliver talks on electronic art, design and technology. Guest speakers so far include acclaimed visual artist Shantell Martin, design guru Sylvia Feichtinger, generative design visionary Golan Levin and software artist Josh Nimoy. Pretty much anything goes, but expect Springsessions at the very least to cover digital art, design, visual culture, experimental technology, interactive experiences, computational art and much more. Check http://www.springfestival.at/springsessions-2012 for more info.
The City of Graz, Austria:
Graz is a stunning city in south-east Austria, awarded with the UNESCO World Heritage status in 1999 which was renewed in 2010, along with European Capital of Culture status in 2003. It features architectural wonders originating from the Germanic region, the Balkans and the Mediterranean, for which it served as a crossroads for centuries. The city of Graz received the coveted City of Design status, also from UNESCO, last year, linked into everything from the user interface of the city and the self-conception of the Grazers right through to the economy – such as tourism, trade and gas¬tronomy. Graz is very much a forward-thinking town, and this inspiring recognition will keep it evolving. Springfestival, or course, is incredibly proud to be a part of this process.
Essential Information:
Springfestival takes place Weds 16th – Sun 20th May 2012 in Graz, Austria, across several of the city's leading music environments.
Weekend tickets start at 88e.
Ryanair fly direct to Graz from Stansted, and Air Berlin are connected to Graz through over 40 cities
Find out everything you need to know about Springfestival at: http://www.springfestival.at/springfestival-2012
Springfestival tickets: http://springfestival2012.eventbrite.com