CORNSHED SISTERS – Tell Tales
aaamusic | On 09, Apr 2012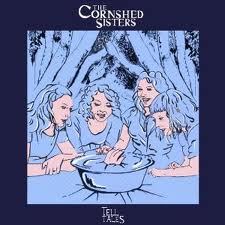 The Cornshed Sisters are four singer songwriters influenced by the north eastern folk tradition of Tyne and Wear.
They comprise Liz Corney (Kenickie), Marie Nixon, Jennie Redmond and Cath Stephens. Their 10 track debut album Tell Tales is co-produced by Field Music's Peter Brewis.
Dresden, written by unknown Geordies Les Cox, finds an unlikely metaphor for love in the RAF's bombing of Germany in the Second World War. The Beekeeper, inspired by a dramatic tale of a man loving his wife to death, is followed by the charming Dance at My Wedding. Pies for the Fair, about cannibalism, is a horror story about making pies out of people.
Distinctive and beautifully entwined vocal harmonies combine dynamically with guitars, ukulele and piano to give an edgy sweetness. Allusive themes of lost loves and watery deaths are taken from the area's timeless musical heritage. These moving stories are told with humour, elegance and sensitivity.
Track Listing: 1. Dresden 2. The Beekeeper 3. Dance at My Wedding 4. Tommy 5. One By One 6. Ocelot Song 7. Soft White 8. If You Were Mine 9. Pies for the Fair 10. Sail To Me.
Anthony Weightman