School Knights' 'Bender' premieres on Portals Music (for fans of Surfer Blood, Cloud Nothings)
aaamusic | On 16, Apr 2012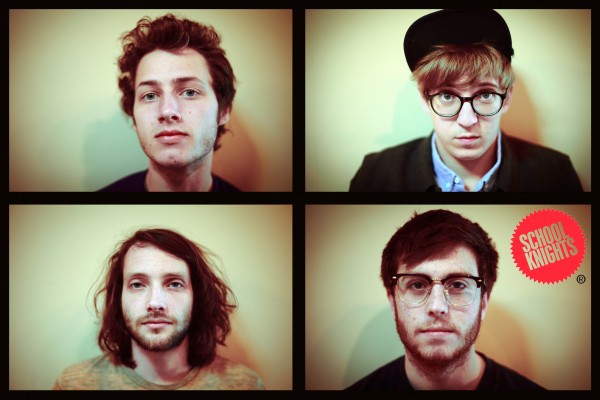 In the summer of 2010, School Knights began as a noise-pop duo in the desolate hippie mountain town of Boulder, Colorado. Pulled from opposite coasts, Michael Stein and Zack Roif mixed their backgrounds of west-coast slacker surf and garage rock with east-coast punk and noise.
Over the course of the next year, the duo recruited two more members, Morris Kolontyrsky and Ben Donehower, completing their full lineup. Including a trip to SXSW in 2011 and east/west coast tours, School Knights has since played shows with the likes of Ty Segall, The Black Lips, Cloud Nothings, Vivian Girls and fellow Coloradans, Gauntlet Hair and Pictureplane. The new lineup began recording demos and exploring a fuller heavier sound, expanding on their style from their previous batch of releases on DIY labels Bridgetown Records (Cloud Nothings), Crash Symbols (Born Gold), and Dracula Horse (Coolrunnings).
The quartet has spent the last few months perfecting their live show and recording a slew of contagious, heavier pop songs. Drawing comparisons to Fang Island, Surfer Blood, and Cloud Nothings, the band has headed in a more developed direction while still maintaining their raw and youthful sound.
Check out the new track 'Bender' Portals Music HERE
www.facebook.com/schoolknights
schoolknights.bandcamp.com/