New Dead Wolf Club video + & free download
aaamusic | On 18, Apr 2012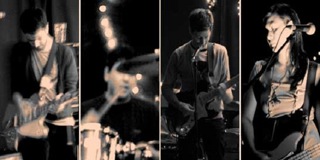 Dead Wolf Club celebrate the release their second single from their debut album with this very special Super 8 style video and free download of Wave.
The video was filmed and edited by talented film maker Sophie Achillini, capturing the bands travels and surfing on a San Diego beach.
Free download on Soundcloud:
The band are also delighted to announce a number of festivals and shows for the summer.
APRIL:
20th RAILWAY HOTEL, Southend
21st CRABSTOCK FESTIVAL, Lamb Inn, Grassington, Cheltenham
30th O2 Academy Islington, London supporting Bow Wow Wow
MAY:
6th SIMPLE THINGS FESTIVAL, Bristol
6th CRAUFEST, The Crauford Arms, Milton Keynes
10th London Barfly supporting The Black Belles
17th The Leopard, Doncaster
18th LIVERPOOL SOUND CITY, Liverpool
19th WITHAM ST HUGHES FESTIVAL, Witham, Lincolnshire
JUNE:
9th PARTY ON THE PITCH, Carmarthenshire, North Wales
16th GRENDON FESTIVAL
SEPTEMBER:
1st LODESTAR FESTIVAL, Cambridge
1st 1234 FESTIVAL, London