A Chat With Jezabels
aaamusic | On 19, Apr 2012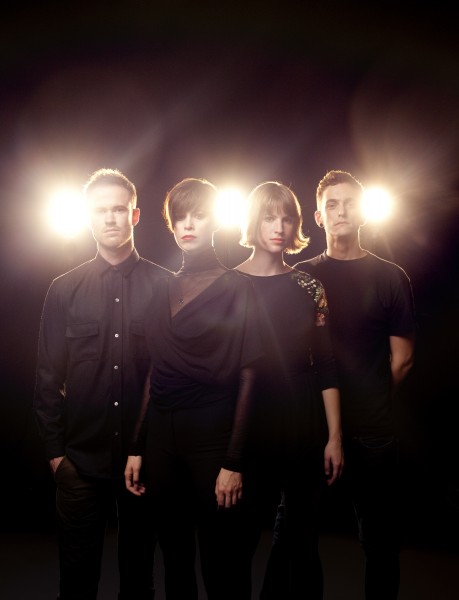 AAAmusic: How was the UK music scene compared to the Australian music scene?
Both scenes have world class acts to offer I think.  There's a great mix of different genres that can be found in  both territories.  The thing with the scene in the UK is the sheer size of it.  It's incredible how many venues there are just around London and how many different bands are filling them up every night.  I could imagine it would be pretty difficult, as a band starting out, to garner the attention of the public when you're one of a million bands trying to do the same thing!
AAAmusic: Some people call you disco / rock How would you best describe your sound?
I find this question a pretty difficult one to answer.  I generally try and describe it as some mix of alternative pop rock I guess.  The media seems to be much better at drawing comparisons between us and other bands, finding genres for us to sit in, some of them make sense and others are quite surprising.   I think the disco tag pops up sometimes because our first single back in 2009 was called Disco Biscuit Love – I don't think we've really done much that sounds disco since then so I don't think that's an apt description.   The easiest way is to have a listen and find out I guess.
AAAmusic: What do you think lead to your success in the American music market?
I think we have a quite a long way to go in the States until we call ourselves a success! We started getting some good traction out here with the mountain biker Danny Mcaskill using our music in his youtube video that went viral – also, the college radio circuit seemed to pay us some great attention and we were added to quite a few stations.  We plan to keep it all going with a relentless North American touring schedule up until the end of the year.  Hopefully we can play infront of heaps of different people!
AAAmusic: You released the album 'Prisoner' in 2011 any plans for a new record?
We plan to do nothing but tour in 2012.  We're not a band that is particularly good at writing on the road – frankly we don't know how bands do it!  We're always busy when we're on tour, we can rarely find the time to work on any new ideas.  Having said that, there's no doubt in our mind that we'll be writing a second album.  We're aiming to starting working on new material early 2013.  At this rate we have no idea what we're aiming for,  I'll be pretty surprised to see what comes out of us… hopefully it's good!
AAAmusic: Can you tell me the concept behind new track 'Rosebud' what does the track meant to you?
Rosebud is a track that grew from an idea that Hayley had brought to the studio one day.  She had grand visions for it to be a synth laden 80s anthem, and I think we did it justice.  I've never had such a distinctly 80s reverb sound on my snare drum before.  It was a new style for us to write it in, and presented a few new challenges when we took it to the live setting, but I think it's going well.
AAAmusic: Are you planning a UK tour in 2012?
We just finished a 9 date run in the UK in February.  That was great fun and made it to a few new places like Edinburgh and Leeds.  We're playing in Brixton and Liverpool this coming May, and have plans to play even more UK shows before the end of the year.
AAAmusic: Why is the band called the Jezabels do you think it suits the band and do you identify to the title?
The band name is an attempted reclamation of the idea of Queen Jezebel, in the Old Testament.  We find the popular interpretation of the story to be rather disappointing, and wanted to draw attention to that.  I do identify with the title, yes.
AAAmusic: What bands influence the band?
Collectively we really enjoy music by Radiohead, The Arcade Fire, The National.. but we're all quite different musically. So we'd all probably have different answers to this question.  Personally, I'm influenced quite strongly by bands like Pedro the Lion, Curisve, WHY?, The Locust, Botch… just to name a few.
AAAmusic: Who would you least like to be stuck in a lift with for an hour and explain why?
Rick Santorum.  He's a hateful man that spreads damaging ideas.
AAAmusic: So what are the next steps for the Jezabels?
Endless amounts of touring!
Daniel Cairns
Now armed with a UK press rap sheet longer than your arm and an attitude that defies convention, Australian four-piece and winners of the 2012 Australian Music Prize The Jezabels have not only conquered their home land but 2012 sees them casting their own brand of highly charged rock, like a malevolent storm, across the oceans and into the UK.
In just 3 short months the band have played to 2300 people at their two sold-out London headline shows and on the day their critically acclaimed album Prisoner was released in the UK, they announced their biggest London headline show to date, at the 1500 capacity Brixton Electric on Thursday 17th May 2012
Following up from the album release (which went straight into the Aussie charts at no.2) The Jezabels will be releasing album track Rosebud out now.  From the opening bars Rosebud bears all the hallmarks of The Jezabels' sound: it's a widescreen epic with guitarist Sam Lockwood's expansive FM radio riffery, coupled with drummer Nik Kaloper's thundering drums and Heather Shannon's chiming layered keys all poised behind singer Hayley Mary's now distinctive and remarkable vocals.
Catch The Jezabels live in the UK during May, more UK shows and festival dates to be announced.
The Jezabels Live in the UK May 2012
Thursday 17th May                       London                     Brixton Electric
Friday 18th May                            Liverpool                  Zanzibar
Saturday 19th May                       Dublin                        Button Factory