Hit the Deck Festival
aaamusic | On 24, Apr 2012

Nottingham, 22nd April
Autumn in Disguise (Rock City) opening up the main stage and being the first band on is a hard task for anyone and this band just look out of place. Their sound doesn't sound strong and they find it hard to engage with the audience. They have a little heaviness but then is watered down with melodic pop vocals that you can tell they want to sound hardcore.
With one last Breath (Rock City Basement) show why they are on tour with Of mice & Men with a hard hitting heavy set. They look like a bunch of kids from the audience have invaded the stage and picked up guitars and have started playing, but the music we are hearing is really good and they have riffs that could only be compared to Motionless in White and Bring me the Horizon. This is defiantly a band that I will be keeping my eye on. Spencer Costello screams out with agonistic preciseness to a crowd that really loves this band as the breakdowns keep on coming.
Polar (Stealth) are a noisy racket of pure aggression and energy as they play to a packed in tight room of mad hardcore fans. Their is so much crowd surfing that is meant to be banned in the venues today and the majority of that is done by the band. Their aggression is starting to make the crowd rowdy and circle pits would have been happening if it wasn't for the tightness of the crowd leaving not that much space for movement. They are tearing the life out of you and should have been playing in a bigger room because their is already people outside that can't get in and it's only early in the day.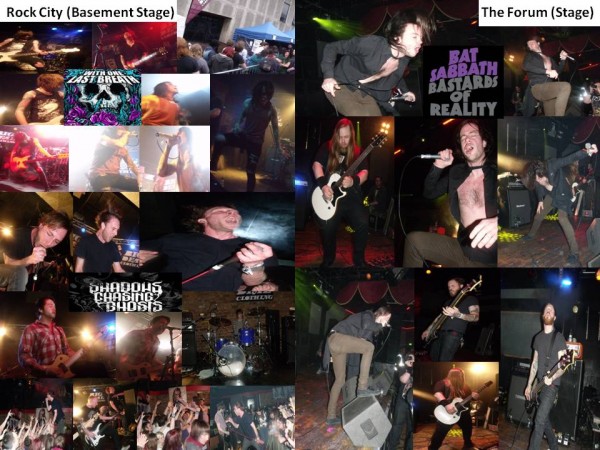 Crossfaith (Stealth) are Japanese and they cross Metal with Dance. It's a little bit early for this brand of music cause it is the songs you want to hear at the end of the night, but it is still really enjoyable. The only thing I would say is the band seem a little complacent and don't seem to be pulling out all the stops, even thou the songs sound as good as they do on the recordings. This is good music and something slightly different from what other Japanese bands have done before them so makes you want to listen and see what they can come up with. They wind their set up to a new high with a Dance, Metal version of 'Omen' by the Prodigy which sounds exactly like the original and makes you want to get up and slam dance.
Yashin (Rock City) bring the party vibe to Nottingham and it's only 3 PM and everyone is really up for a good time and with songs like 'Get Loose, Let it Go' and the anthem 'Stand Up' they have started todays sing-a-long. The girls love this band and most of the screaming seems to be aimed at the clean singer Harry Radford and not the bands screamer Kevin Miles. They know how to work the crowd and have recently gained a lot of live experience touring with Black veil Brides and Papa Roach. You can see why they are starting to get popular because their is a lot of people wanting to see this band today and they are the first band on the main stage to bring life into the festival. They have catchy choruses and are very chart friendly so I think this band will be massive and you will probably see them headlining this festival in a few years time.
Shadows chasing Ghosts (Rock City Basement) really pull out all punches with a set that comes straight at you no time for by standers. They really go at the crowd with songs like 'Lose the Attitude' and their most popular song 'Sunlight' diving into the crowd at every moment they can. The room is alive and people that have never heard of this band before are wondering why not. Shadows chasing Ghosts have always been on the underline of the main stream and you wonder why because they have some really good Hardcore, Emo Esq songs and you realise they are just looking for their lucky break. I have seen this band many times before and they always put on a good show but for some reason you just don't remember it to well at the end of the day and you have no idea why.
Silent Screams (Stealth) are very nervous tonight, they haven't played for a longtime and find it really hard to even look at the crowd, but they produce a heavy and polished sound of Metalcore gems. I have been wanting to see this band for quite a way and they look really cool in Hardcore black attire. Their has always been a darkness behind this band and their screams haunt you a little. This is a band that are cool and if you like your Hardcore, Metalcore you must own their CD cause every song is good and they really get you in the mood to run over to the main stage to see American band Of mice and Men.
Of mice & Men (Rock City) take to the main stage with confidence and arrogance and are the band everyone has been talking about. They end with the popular 'Second and Sebring' which is good goodbye.
Rise to Remain (Rescue Rooms) have lost a few members recently and I think it has really effected the live presence of the band, they try to pull out all the stops but their is just something missing and as the set goes on you can see people quietly leaving to go see other bands on other stages. Sadly even guitarist Ben Tovey seems to have lost some of his magic which used to bring a guiding light to the stage and they just seem out of place and you wonder why they have been put on the bill. Austin Dickinson so of legendary Iron Maiden frontman Bruce Dickinson really tries to get the crowd going with no prevail and you can't blame him for trying and to be honest his vocals are sound good tonight, one of the things I have always faulted the band for in their live shows.
Bat Sabbath (The Forum) are as everyone already knows the Cancer Bats playing songs by the great Black Sabbath. Liam comes to the stage in a cloak and the band are wearing all black. You get to hear all the classic Sabbath songs like 'Paranoid, N.I.B. and Iron Man' and you are brought into a psychedelic drug induced music haven. I could have listened to this all day long, they are playing the songs as good as Sabbath have ever played them. Also you get the Cancer Bats flare for them, you can see this is a band that loves the music they are playing this is not some gimmick or joke this is serious, this is Bat Sabbath and they want you to endure the stoner groove they even have extra drum beats and you could see the prince of darkness Ozzy Osbourne looking over them from downstairs in the depths of hell. I would love to see this on the same day as Black Sabbath at the Download Festival cause this is the Cancer Bats only chance to ever do that and I think they deserve the right to be their and have the best day of their lives. I will remember this performance of the rest of my life so they have done a great job.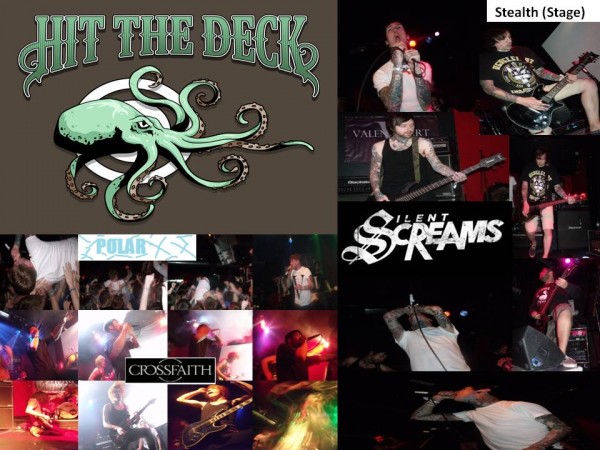 While she Sleeps (Rescue Rooms) like Young Guns are a late edition to the bill coming in as very special guests and While she Sleeps even being hidden under a different name on the bill card. They have been put on as the Black Youth. They opening tonights procedures with the song 'Trophies' the room ignites for 'The north stands for Nothing' which is a favourite and i have never seen the crowd go for it so much, a lot of people that didn't get to the venue early have been turned away even photographers and journalists, this is no set for by standers this band mean business and you can see why everyone has been watching out for them. Everyone is being pushed back and forth like a yo-yo and people are falling to the floor everywhere and it has gone into a massive punch up for the song they end with 'Crows' leaving the next band having to pull out all the stops to catch up with them.
Cancer Bats (Rescue Rooms) for normal bands following While she Sleeps would be a hard job but the Cancer Bats aren't a normal band they had already played 7 times in two days and they are not even tired, they even dedicate a song to the massive banners around them that say hell yeah 'This song is for that banner!' and they hit into the track 'Shillelagh' screaming out the lyrics 'Hell Yeah!' they are headlining the Rescue Rooms stage tonight and a lot of people want to see them. Their is a barrage of cheers when they announce that they will be playing their Beastie Boys cover 'Sabotage' and even have so many cheers that they come on for an encore. The Cancer Bats don't really do encores and this is at a festival and they don't really have time for one but they don't care and play one anyways to wrap up what has been a very hectic and triumphant weekend for a Canadian band which literally set London a light the day before.
Kids in glass Houses (Rock City) ending the night are this years Welsh headliners Kids in glass Houses and they are the one all the young girls and kids have been waiting for all day. They are one of the lightest bands on the bill and look more like a boy band, but their is a lot of people who have just come to see them. You can see Welsh banners draped all over Rock City and you can see people have traveled down especially to see this band so maybe their not so out of place on todays bills. One of the problems I have always had with them is that singer Aled Philips doesn't really command the stage like fellow Welsh frontman Ian Watkins does. They just seem a little too watered down and manufactured and songs like 'Saturday' and old hit that goes down really well shows why. Everyone does know all the lyrics and you can see smiles on faces all around but it really is in the same league as One direction. They end with the 2010 hit 'Matters at All' that makes an anthem for a lot of the girls day and to be honest it isn't a high point for the end of the day with the band not even doing an encore. I think they would have been better playing mid day in the sun at one of this years up and coming festivals they are not really a headline band but everyone has had a great day in sunny, stormy Nottingham.
Kids in glass Houses – Setlist
————————-
Sunshine
Best
Youngblood
Animals
Me
Undercover
Diamond Days
Fisticuffs
Haunts
Artbreaker 1 and 2
Saturday
Matters
Author: Daniel Cairns