Demons & Demons 2 – Lamberto Bava & Dario Argento
aaamusic | On 29, Apr 2012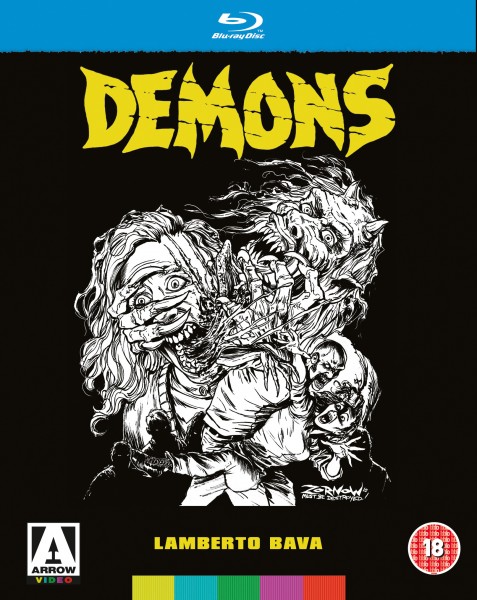 Dario Argento and Lamberto Bava are part of my cultural background. As a horror movies lover and Italian, I always felt these two nutcases were special. It only takes few minutes from Demons to realise there is some serious twisted genius behind these two man.
These two releases, restored from the original camera negatives by the Cineteca di Bologna, are finally available in Blu-Ray and Steelbook editions, offering the splendour of these seminal horror movies together with a specially commissioned comic book by Stefan Hutchinson.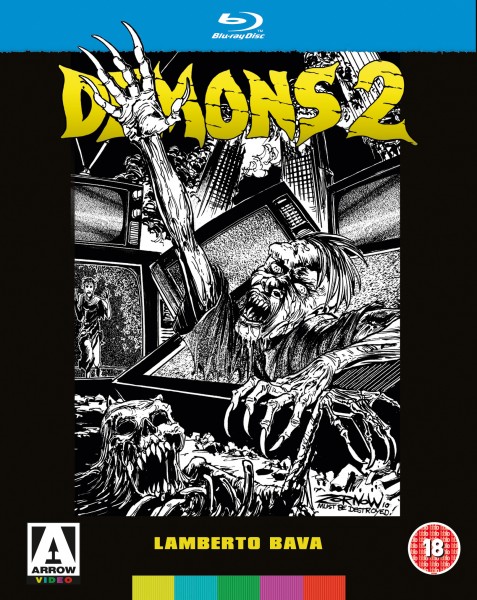 The first time I watched Demons I was 6 years old: they were showing it late at night on Rete4 Notte Horror, and my mother allowed me to stay late and watch it with her. I still remember the anticipation, the anxiety that built up during each frame and didn't let me go until the end. I remember my mother telling me how she dragged my dad to the cinema to watch it on the day of release in 1985 (for Demons): the ambulance outside and how she had to sign a declaration that she would not held the cinema responsible should she feel sick (she was pregnant with my brother).
Aside these family memories, the movies always held something special to it: the special effects were great, considering the technology available, and the music. Ah yes, the music, beautifully crafted by Argento's beloved collaborator Claudio Simonetti (of Goblins fame: I am telling you, if you are not familiar with them you need to go and get the albums, now!) as well as including Motley Crue, Billy Idol, Go West and Rick Springfield. As a 6 years old girl, they shocked me, they opened the door to great universes and it expanded my mind. I periodically watch them and do not get bored of them, always finding something incredible in them, something that still amazes me 20 years on.
I dare you not to love them.
Starring: Urbano Barberini, Natasha Hovey, Karl Zinny
Directed by: Lamberto Bava
Rating: 18
Duration: 88 mins
Blu-ray RRP: £24.99
DVD RRP: £15.99
Blu-ray Contents:
– Four-option reversible sleeve with original poster and video artwork with additional fifth artwork panel featuring all-new Jeff Zornow artwork
– Double-sided fold-out poster
– Collector's Booklet featuring brand new writing on Demons by Calum Waddell
– Collector's Comic: 'Demons 3' (Part 1 of 2)
DVD Contents:
– Reversible sleeve featuring all new artwork by Jeff Zornow and alternate original poster artwork
– Collector's Booklet featuring brand new writing on Demons by Calum Waddell
– Collector's Comic: 'Demons 3' (Part 1 of 2)!
Special Features (for both Blu-ray & DVD versions):
– Audio recollections of director Lamberto Bava, Special Make-Up Creations Artist Sergio Stivaletti and Journalist Loris Curci
– Audio recollections of the cast and crew, a brand new commentary [2011]
– Dario's Demon Days: Producer Dario Argento discusses the inception of Demons
– Defining an Era in Music: Composer Claudio Simonetti on the Demons Soundtrack
– Luigi Cozzi's Top Italian Terrors: Cozzi discusses the highpoints of Spaghetti Splatter
Product Info:
– Re-mastered from a brand new HD restoration of the film
– Optional English and Italian audio
– Optional English subtitles for Italian and English (SDH) audio
– Restored from the original camera negative by Cineteca di Bologna
– Original Aspect Ratio – 1.66:1 (16×9)
– Blu-ray Region – B
– DVD Region – 2 PAL
Alessia Matteoli