Matthew P – Long Straight Lines
aaamusic | On 29, Apr 2012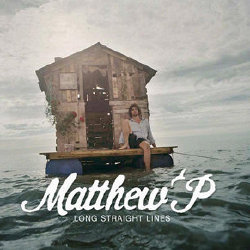 From his beach-side hut-come-studio in Suffolk, Matthew P creates infectious acoustic pop with a mild folky flavour. His work has a real sense of summer to it, capturing the beach-life that it is created from, like an English Jack Johnson. Still, given the success of Jack Johnson, surely it's not such a bad thing to sound like his British equivalent? After all, he's a commercial success.
Speaking of commercial success, P's The Girl On The Platform Smiles/She Began To Dance was featured on the Match.com advert. So many people have heard Matthew P without even realising it. Matthew P is set to become pop's new troubadour.
His album, Long Straight Lines, is out on the 30th of April and he will also be touring to promote the new album. The album opens with On Top which sets a relaxed, lazy summer pace for the rest of the album. P's music has an uplifting, everyday quality to it. There is a pleasant simplicity behind the melodic piano, catchy guitar and gentle vocals on the album.
The title track, Long Straight Lines, follows. Things get a bit more upbeat and a bit electronic on this one. The repeated 'ooh' harmony carries the song and ensures it won't leave your head anytime soon. It has all the components of a classic pop song.
Hey Lady is a typical love song with a real feel of the beach.
'Hey, won't you take a walk with me today and keep each other warm in winter.'
The lyrics on the album are as you'd expect an album of its kind to be. However, it's not the message of the lyrics that counts, they're incredibly catchy to listen to and that's what counts.
Little You Little Me mixes catchy guitar picking with the theme of love. P sounds particularly like Jack Johnson on this track, it's hard to listen to this and not think about Jack Johnson since P's vocals even sound disturbingly similar, especially on this song. This surely belongs on the same playlist as Jack Johnson's Banana Pancakes. The infectious summer guitar picking continues on with Feet On The Ground. Whether you like it or not, P's music will stick in your head for the rest of the day and that's when you know your work as a pop artist is done.
The album ends with End Of The World, which is makes for a good closure. It's one of the less irritating songs on the album. It has a slightly melancholic feel to it, like the end of an eventful summer. But as autumn comes we'll still be trying to shake these songs from our heads. Matthew P, I hope you're happy.
Rose Benge