Keane's explicit video for 'Disconnected'
aaamusic | On 06, May 2012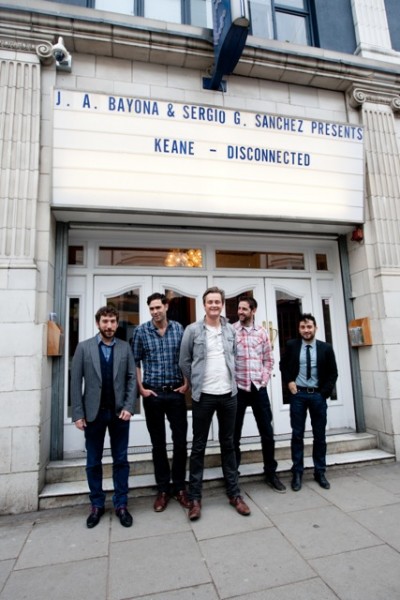 On Thursday night, ahead of their fifth album release, Keane and film directors Juan Antonio Bayona and Sergio G. Sanchez appeared at the Electric Cinema in Notting Hill for a special screening of their music video for 'Disconnected', a track taken from Keane's brand new album 'Strangeland' (released 7th May on Island Records).
Certified as too explicit to be played on TV, the much talked about video pays homage to the 70's horror movie aesthetic and is now available to watch online.
The video screening included a Q&A with Keane themselves, as well as acclaimed directors JA Bayona and Sergio G. Sanchez, who shot the video in a haunted house in Barcelona.
Bayona said:
"I feel close to what Keane do, their music is timeless, they do their own thing and I admire that."
Sanchez said:
"I have been a fan for years and they finally let us make a video for them! Everyone can relate to what they do because their music tells a coming of age story."
Tom Chaplin said:
"The video perfectly sums up the imagery that the song conjures up. It is the best video we have made."
Bayona and Sanchez joined forces for the first time in the cult horror movie The Orphanage, which the former directed and the latter wrote. Their second collaboration will be released at the end of this year; The Impossible, an epic drama set during the Thailand tsunami in 2004 and starring Naomi Watts and Ewan McGregor.