I'll Be Your Mirror London: Louis Theroux curates Films, times announced & free mixtape released
aaamusic | On 16, May 2012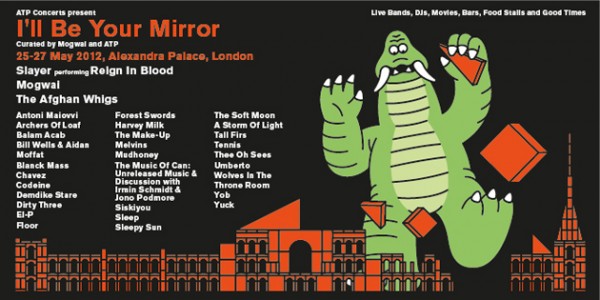 Louis Theroux is confirmed to curated the Cinema on the Sunday at the upcoming I'll Be Your Mirror event. ATP are delighted to have him on-board and he has chosen some great documentaries as part of his programming!
Taken from ATP Concerts press release:
Today as well as announcing the stage times for ATP I'll Be Your Mirror London which runs from the 25th – 27th of this month at Alexandra Palace, ATP can announce a free Pre-festival Party to get you all in the mood for the event, the full Film Schedule (with special guests) and also Mogwai's recommended reading list, as well as release a free Mixtape download.
The festival includes Slayer performing Reign in Blood, Sleep, Melvins, Mogwai, Dirty Three, Codeine, Mudhoney, The Afghan Whigs, The Make-Up and many more. See below for our full schedule.
Tickets for IBYM London are on sale via this LINK now!
Mixtape:
First up you should check out our new and rather fantastic 2+ hour long Festival Mixtape featuring music from nearly every artist performing. It's a free download so head here for the tracklisting and more info!
Pre-Festival Party info:
All Tomorrow's Parties are hosting a pre-party for the event at Mason & Taylors, Bethnal Green Road on Thursday 17th May. The night promises DJ sets from Factory Floor, Barry Hogan of ATP, Declan Allen, Rough Trade and others. They'll be playing music from the bands performing at the fest and much much more. Entry is free (no need to book in advance, just come along on the night). We'll also enjoy other treats such as Whisky Tasting (tbc), an ATP Photobooth and the chance to buy tickets directly from us for all of our shows/festivals without booking fee. We hope to see you there for a few drinks and to get excited for the main event the week after! The night runs from 7pm – midnight and you can find the venue at 51-55 Bethnal Green Road E1.
Films Confirmed:
Cinema programme curated by Mogwai, The Prince Charles Cinema, Louis Theroux & ATP.
Please note, the cinema exists on a first come, first served basis. If you really want to see a film, you may have to get there early – there is limited seating and we do not guarantee entry into any session.
Friday 25th May – curated by The Princes Charles Cinema
We have asked our good friends at the Prince Charles Cinema to curate the film program on Friday night. The Prince Charles is a London institution and all ATP members receive a complimentary Prince Charles membership. Comments below by Paul Vickery of the Prince Charles Cinema.
About The Prince Charles Cinema:
"The Prince Charles Cinema is everything an independent movie theatre should be. For lovers of quality films, this is Mecca" – We know that sounds like some PR bumf we've written up to make us look good, but that quote ladies and gentlemen comes from none other than Mr. Quentin Tarantino. With such high praise placed upon us, we feel we have a duty to offer our customers the very best (and at times the best of the worst) that cinema has to offer. Be that Cult Double Bills, Classic & Vintage films, Late Night schlock fests or even Teen Movie all-nighters – we do it all, and we love what we do.
4:00pm-5:33pm – They Live (1988. Dir John Carpenter)
6:00pm-7:25pm – The Monster Squad (1987. Dir Fred Dekker)
7:45pm-9:52pm – Se7en (1995. Dir David Fincher)
10:00pm-11:24pm – The Texas Chainsaw Massacre (1974. Dir Tobe Hooper)
Saturday 26th May – curated by Mogwai
12:00pm-1:22pm – All Tomorrow's Parties (curated by ATP) (2009. Dir All Tomorrow's People)
1:30pm-1:55pm – The Meaning Of Style (2011. Dir Phil Collins) – on loop
2:00pm-4:17pm – The Lives Of Others (2006. Dir Florian Henckel von Donnersmarck)
4:30pm-5:50pm – Tales From A Hard City (1994. Dir Kim Flitcroft)
7:00pm-8:18pm – Rec (2007. Dir Jaume Balaguero & Paco Plaza)
8:30pm-10:32pm – The Exorcist (1973. Dir William Friedkin)
Sunday 27th May – curated by Louis Theroux
Louis Theroux is a BBC television presenter best known for making documentaries that investigate fascinating worlds and lifestyles. Over more than fifteen years, using a gentle questioning style and an informal approach, he has shone light on some of the world's most intriguing beliefs, behaviours, and institutions by getting to know the people at the heart of them – from the officers and inmates at San Quentin prison to the extreme believers of the Westboro Baptist Church; the male porn performers of the San Fernando Valley to the medical regime in one of America's leading centres of mental health for kids.
Recently he made a two-part series on Miami county jail and a special on America's private menageries of exotic animals. In the course of his career, Louis has scored a number of journalistic scoops. His series of celebrity profiles, When Louis Met…, took viewers inside the world of the charity fund-raising eccentric Sir Jimmy Savile; the media guru Max Clifford and his client Simon Cowell; and most famously Neil and Christine Hamilton, who found themselves the subject of rape allegations during filming and allowed Louis and his director to continue to stay with them and document the ensuing media onslaught. Louis graduated from Oxford in 1991 and started out as a print journalist the following year, working for Metro weekly in San Jose and then in New York for Spy magazine. He got his television break from Michael Moore, who hired him as a writer and correspondent for his ground-breaking satirical show, TV Nation.
In 1995 the BBC signed Louis to a development deal. He came up with an idea for a documentary series that would follow him as he immersed himself in off-beat lifestyle, called Weird Weekends. Over the years, Louis has kept true to a way of working that is uniquely his own: by charming his subjects, he's able to offer rounded portraits of some of the world's most psychologically gripping issues, while always resisting easy judgements. Louis has won two BAFTAs, an RTS award, and a Bulldog award, not to mention numerous nominations. Louis also continues to write for print publications. In 2005 he published a travel book about a few of his adventures, The Call of the Weird. He lives in West London with his girlfriend and two children.
12:00pm-1:40pm – American Movie (1999. Dir Chris Smith)
2:00pm-3:36pm – Don't Look Back (1967. Dir DA Pennebaker)
4:00pm-6:00pm – What is this film called Love? w/ Mark Cousins Q&A (curated by ATP) (sneak preview) (2012. Dir Mark Cousins)
6:00pm-8:00pm – Twilight Of The Porn Star w/ Louis Theroux Q&A (2012)
8:00pm-8:55pm – Stalking Pete Doherty (2005. Dir Max Carlish, Carey Dunn)
9:00pm-10:37pm – Knuckle (2011. Dir Ian Palmer)
10:45pm-12:00am – King Of Kong (2007. Dir Seth Gordon)
Books:
The following books are recommended by Mogwai as part of their curatorial duties. For your chance to win a prize pack containing The Wind Up Chronicle, The Gone Away World, Cloud Atlas and Glue, keep an eye out for
the competition running this Thursday at www.facebook.com/atpfestival
From Hell (author: Alan Moore, publisher: Knockabout Comics)
The Wind-Up Bird Chronicle (author: Haruki Murakami, publisher: Vintage)
Glue (author: Irvine Welsh, publisher: Vintage)
Cloud Atlas (author: David Mitchell, publisher: Sceptre)
The Gone Away World (author: Nick Harkaway, publisher: Windmill)
Stage Times:
FRIDAY, 4pm – Doors
Great Hall:
6.30pm-7.30pm – Melvins
8.15pm-9.15pm – Sleep
9.45pm-11.00pm – Slayer
West Hall:
4.30pm-5.15pm – A Storm Of Light
5.45pm-6.30pm – Yob
7.30pm-8.15pm – Wolves In The Throne Room
Cinema curated by Princes Charles Cinema:
4:00pm-5:33pm – They Live
6:00pm-7:25pm – The Monster Square
7:45pm-9:53pm – Se7en
10:00pm-11:24pm – The Texas Chainsaw Massacre
SATURDAY, 12pm – Doors
West Hall:
12.30pm-1.15pm – Umberto
1.45pm-2.30pm – Floor
3.00pm-3.45pm – Harvey Milk
4.15pm-5.00pm – Chavez
5.30pm-6.15pm – Codeine
6.45pm-7.30pm – Mudhoney
8.00pm-9.00pm – Dirty Three
9.30pm-11pm – Mogwai
Panorama Room:
2.00pm-3.30pm – The Music Of Can
3.45pm-4.45pm – Antoni Maiovvi
5.15pm-6.15pm – The Soft Moon
6.45pm-7.45pm – Bill Wells & Aidan Moffat
8.15pm-9.15pm – Balam Acab
9.15pm-11.00pm – DJs
Cinema curated by Mogwai:
12:00pm-1:22pm – All Tomorrow's Parties (picked by ATP)
1:30pm-1:55pm – The Meaning Of Style
2:00pm-4:17pm – The Lives Of Others
4:30pm-5:50pm – Tales From A Hard City
7:00pm-8:18pm – Rec
8:30pm-10:32pm – The Exorcist
SUNDAY, 12pm – Doors
West Hall:
12.30pm-1.15pm – Forest Swords
1.45pm-2.30pm – Blanck Mass
3.00pm-3.45pm – Demdike Stare
4.15pm-5.00pm – Thee Oh Sees
5.30pm-6.15pm – Archers Of Loaf
6.45pm-7.30pm – Yuck
8.00pm-9.00pm – The Make-Up
9.30pm-10.45pm – The Afghan Whigs
11.15pm-12.00am – El-P
Panorama Room:
2.00pm-3.30pm – DJs
3.45pm-4.45pm – Tall Firs
5.15pm-6.15pm – Siskiyou
6.45pm-7.45pm – Sleepy Sun
8.15pm-9.15pm – Tennis
9.15pm-11.00pm – DJs
Cinema curated by Louis Theroux:
12:00pm-1:40pm – American Movie
2:00pm-3:36pm – Don't Look Back
4:00pm-6:00pm – What is this film called Love? w/ Mark Cousins Q&A
6:00pm-8:00pm – Twilight Of The Porn Stars w/ Louis Theroux Q&A
8:00pm-8:55pm – Stalking Pete Doherty
9:00pm-10:37pm – Knuckle
10:45pm-12:00am – King Of Kong