DONOVAN WOODS – The Widowmaker
aaamusic | On 19, May 2012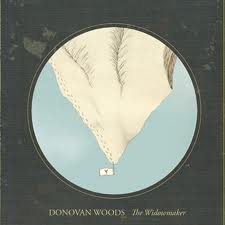 Donovan Woods is a Canadian folk singer-songwriter and multi-instrumentalist from Ontario, Canada. His influences are Paul Simon, Mark Knopfler, Bryan Adams, Emmylou Harris and Phil Kessel.
His praised first album, The Hold Up, was released in 2007. His second, The Widowmaker, is released in the UK on 25th June, 2012 through Aporia Records. Piano, banjo, guitar, moody synth tones and female backing vocals are used throughout the album.
Jail has a beautiful piano with a country style vocal supporting the banjo, whilst Divorcee is a sad tale of naivety and despair with a timeless quality. Phone is a story about pain and heartache. A rather sparse and echo filled track is found in Lord I'm Tryin.'
There's intense passion to Donovan Woods gruff, tender and distinctive voice. He tells great stories about love, success, maturity and rejection. They're clear, simple and articulate without attempting to be too clever. His lyrics contrast light with shade and joy with sorrow.
Donovan Woods' gorgeous but also minimal arrangements are inviting, refreshing and original. His melodies are emotional and soulful. This is an album from a talented artist who sadly needs greater recognition.
Track list: 1. Jail 2. Phone 3. Your Daughter, John 4. How Much is That Hat? 5. Divorcee 6. Lord, I'm Tryin' 7. Let Go Lightly 8. I'm Still Sweet 9. Won't Come Back 10. Lawren Harris 11. No Time Has Passed 12. Don't Deny It.
Anthony Weightman