Gurrumul to perform at Queen's Jubilee concert and announces European festivals
aaamusic | On 21, May 2012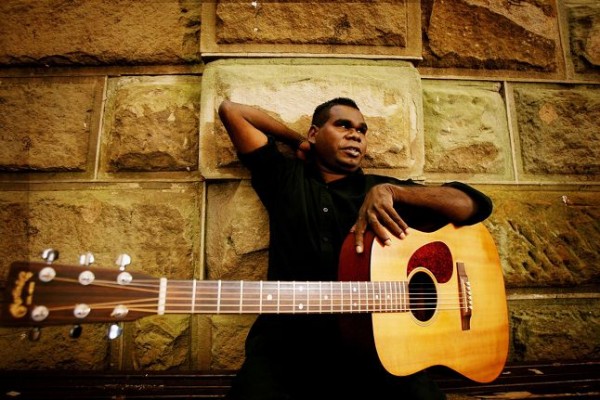 Gurrumul Yunupingu will be joining a host of stars to perform at the Queen's Diamond Jubilee Concert on June 4th 2012. The blind indigenous Australian singer and musician, who also performed for Her Majesty The Queen and His Royal Highness The Duke of Edinburgh in Canberra in October 2011, will perform 'Sing', the Diamond Jubilee Song*, with various artists from across the Commonwealth
The concert will be broadcast live on BBC One, BBC One HD and on BBC Radio 2 in the UK and to millions around the world.
Gurrumul's performance at the Diamond Jubilee concert is the latest in a long line of honours for this shy man from the remote Elcho Island. Having received awards and global acclaim for both his debut album 'Gurrumul' and his second album 'Rrakala, he has recently performed for Barack Obama, Crown Prince Frederick and Princess Mark of Denmark.
Gurrumul will return to Europe in July for a run of rare festival appearances including:
July 8 Roskilde Festival, Denmark
July 13 Riddu Riddu Festival, Kajford, Norway
July 15 Sommarscen, Malmo, Sweden
July 22 Plaza del Ayuntamiento, nr Alicante, Spain
July 24 Blue Balls Festival, Lucerne, Switzerland
(+ dates to be announced)
In July, Dramatico Entertainment will release a special version of 'Bayini', one of the most popular tracks from Gurrumul's 2011 masterpiece Rrakala. On this recording, Gurrumul is joined by Sarah Blasko, who is also a respected multi-platinum, multiple ARIA Award winning vocalist, to present a story about connection to the land, an intriguing sentiment. In his fragile keening and emotive voice, Gurrumul expresses the spirit of Australia's land and ancestry. Blasko counterpoints with her own haunting contribution, completing the journey of a song that has meant so much to Gurrumul fans the world over.
* Written by Gary Barlow and Andrew Lloyd Webber.