A Chat With Charlie Hedges
aaamusic | On 27, May 2012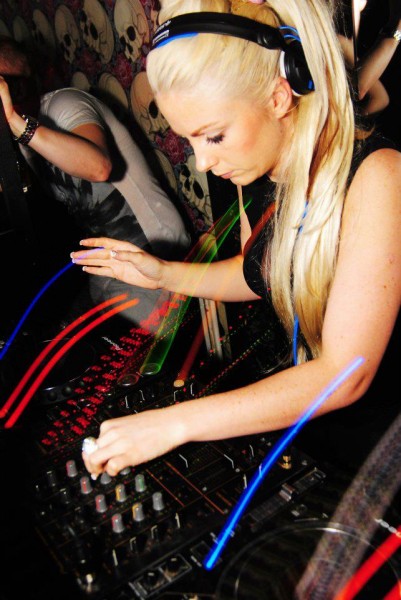 AAAmusic: Do you think there is any pressure in being the youngest female breakfast DJ?
No I don't think so really, I just take each day as it comes, try not to worry about anything and enjoy every day!
AAAmusic: Do you ever get nervous broadcasting to four million people each week?
To be honest it's only when someone actually says to me you broadcast to 4 millions people that it makes me feel a little bit butterflyish (think I made up a word there haha) but other than that I never think about it, I treat it as talking to a group of mates in a room and we've got a load of mates listening.
AAAmusic: What are your favourite records at the moment?
I absolutely love Somebody that I used to know Tiesto's remix,  Atom – Nari and Milani and SW4 – Pryda
AAAmusic: Are you a typical Essex girl? 
What's a typical Essex girl?!
AAAmusic: Is this is your dream job and where would you like to go in the future?
This is without a doubt my dream job yes since I was tiny I've wanted to be a DJ and radio presenter, in terms of the future I just hope to expand on what I'm doing DJing wise and continue playing around the world representing the ladies.
AAAmusic: You have interviewed Britney Spears, Rihanna and Justin Timberlake but who did you get the most gossip out of?
50 cent probably, there was a story going around at the time that he always carried a huuuuge amount of cash around with him in his jacket, so me being cheeky asked him if this was the case and in doing so he reached into his coat pocket and pulled a nice wad of notes on the studio desk!
AAAmusic: Are you going to be at any of the festivals this year?
I'm in Ibiza playing pretty much the whole season so festivals are limited around this time but hopefully I'll get some in before the end of the year.
AAAmusic: How did your Ushaia residency come about?
Last year I came out to Ibiza to play, I had sets in Space and did some gigs for Pukka Up too, I continued to work with Pukka Up back home and after a few months they asked me to be one of their resident DJ's, they confirmed their residency in Ushuaia a while ago and I became a part of that too which I'm sooooo exicted about.
AAAmusic: Red Bull or Relentless explain your choice?
haha ooohhhh depends what mood I'm in but Red Bull sugar free as it picks you up don't doesn't feel like you're being too naughty calorie wise which gives more room for food ha!
You listen to Charlie on KISS FM – every morning 6am-9am, and Saturday nights 2am – 3am
Charlie plays at Space and Ushuaia this summer – for all the latest dates and news check out: http://charliehedges.com/
Check out her latest mixes here: http://charliehedges.com/?page_id=252
And follow her on twitter! @charliehedges
Daniel Cairns