A chat with Revoker
aaamusic | On 27, May 2012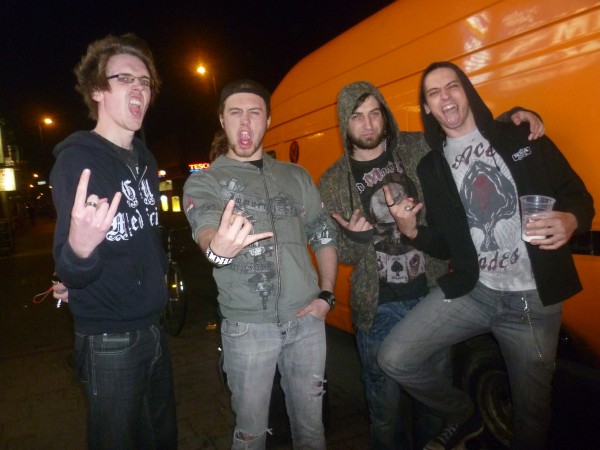 Daniel Cairns talks to Jack Pritchard from the next big metal band from Wales Revoker about drinking and what drums he uses.
AAAmusic: Can you tell me why you called the band Revoker?
Jack: Jay and Chris came up with the idea we were called something else before, we struggled for ages to get a tidy name. All of us had loads of names but none of them suited. Chris and Jay came up with Revoker, what I thought it meant was if your playing a game of cards poker I think. And it's like if you put a pack of cards down, you cheat a bit and keep it for later. So this is why we put a card on one of our singles. We wanted a name that was just one word so if you typed it into Google their wouldn't be loads of other things.
AAAmusic: What bands are the influence behind Revoker?
Jack: Obvious ones are Machine Head, Metallica, Pantera their the main influences of us. I we are all metal heads at heart but we all love different music like I like a lot of Bob Dylan and stuff… and I like drum and bass and rave. The others like blues and eighties stuff so put them all together and we like what we like. I got to meet the drummer from Machine and Vinnie Paul from Pantera which was amazing for me as a drummer.
AAAmusic: What made you decide to record an acoustic song for Jagermeister?
Jack: We are indorsed by Jagermeister, they give us bottles all the time stickers and loads of stuff and they give us free Jager shots at festivals so we thought it would be nice to give something back to them. I think it worked out really well. If you look of their site I think you can still download it. Our bus is orange the colour of Jagermeister but that was just a coincidence but the people from Jagermeister do like it though.
AAAmusic: You toured with Rob Zombie can you tell me about how that was and what experience you gained from the tour?
Jack: Obviously were bricking it a bit at first but hearing who he had in his band was a bit Crazy Joey Jordison, Piggy D, John 5 and of course the man himself Rob Zombie and when we met all the crew and everyone working behind the scenes, we saw how professional they are and it made us want to step up our game. We saw things in a different light we went from playing with small bands to playing with massive bands we all learnt a lot from that.
AAAmusic: Did you work with anyone interesting on your debut album 'Revenged for the Ruthless'?
Jack: We worked with Benji the lead singer from Skindred who produced the album and that was it far as anyone else on it. The people recorded it were the original members of Dub War. So having them in our team made it come really good. We recorded ten songs then we recorded another six and then the album just came together.
AAAmusic: Revoker premiered their song 'Thief' on radio 1 with a download of it for free for the next 48 hours how many people downloaded it and did that help to promote the band?
Jack: Just having the song on Radio One was made, I remember 'Stay Down' was on it too that was our first single and it was mad hearing your song on Radio One. In London you get loads of radio stations, but in Wales you just get the main ones so it was really special to be played on it. It was worth doing to give people a taste of us. I think the song was also on Rocksound magazine, because it was our first album it was a good way to get ourselves out there.
AAAmusic: If you could tour with any band what band would it be?
Jack: The big four would be immense Metallica, Megadeth, Slayer, Anthrax, I personally would love to tour with Machine Head. Tour with Chimaira has been wicked which has been really cool I didn't know how we would go down cause they are a lot heavier than us but we have went down really well. We toured with the Blackout and we went down really well even though they are a different audience than us and we even signed loads of autographs on that tour. We want to go over to America and play with Holy Grail cause they toured with us over here and we want to tour with them in the states.
AAAmusic: Tell me about the drums you use?
Jack: I'm indorsed by Tama so they give me my kit, It's a six piece drum kit two floor toms 2 stack toms and a bass drum. I use a double kick pedal they gave me a speed cobra pedal and it's the best pedal I have had. The pedal is a lot longer so works well, I'm not into using triggers and stuff like that, I really don't want to use triggers. I have a bad history with double kick pedals they all fall apart on me the one I got now is a beast. I also love the hydraulics drum stool they gave me.
AAAmusic: The festival season is coming up are you playing any festival?
Jack: We would have loved to have played Sonisphere this year cause we played it last year and packed the tent out but it's sadly been cancelled. We have got our fingers crossed that we will be added to the bill for the Download Festival we would love that. We are playing a new festival in Wales called the Steelhouse festival along with Feeder, Reef and the Answer. We played Graspop last year which was awesome; The European festivals are great so one of them would be good and one of the big English festivals would be amazing too.
AAAmusic: Who is the party animal of the group and what is your favourite alcoholic Drink?
Jack: I would say me, like last night I drank a whole bottle of Western Scrumpy and this bottle of red wine. The best way to pick red wine is looking at the back label and if it's over twelve percent then it's good. We all have our mad moments, obviously Jagermeister is one of our drinks we do a bottle in ten minutes between us.
Daniel Cairns