A chat with The Rasmus
aaamusic | On 27, May 2012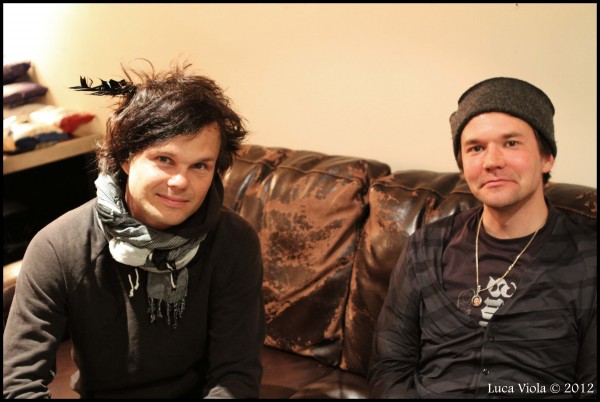 Daniel Cairns chats with Lauri Ylonen and Eero Heinonen of the Rasmus about Disney Characters and flames on the walls.
AAAmusic: How does your new album differ to the ones you previously released?
Lauri: The mixing of it was different, previously on the last album 'Black Roses' we worked with an American producer Desmond Child and it was a massive American big budget production. We wanted to on the new album to keep it in the family just the four of us working on it. We went back to the old rehearsal rooms for the new album the same place we recorded 'Dead Letters' so 'In the Shadows'. So we kind of of went back to our roots. We had a very intense two months writing period last summer and we put the whole package together. I think being back in the old rooms brought back memories I think no one has ever cleaned since 2001 and that also helped to bring back the atmosphere, we had painted big flames on the walls so it was cool to be in the same environment. We found things that we left their years ago like my chewing gum.
Eero: It is funny because in that room you tend to create one sort of sound, you take the guitar, the bass, the drums, the singing and that is the palate that you use. That is pretty cool songwriting wise that you have this sort of arrangement. Like when we were doing these songs we felt like actually it doesn't need much else. Just do a couple of harmonies in the vocals and the record is going to be like that and we felt really happy with that.
Lauri: I don't know if the sound is similar to 'Dead Letters' the songs are though similar to what we did in 2001 on an album called 'Into' the fans are saying.
AAAmusic: Your new album is called just simply 'The Rasmus' do you think this is a more personal album for you?
Lauri: We wanted to start again the band from scratch on the new record, To do the album in a very simple way and keep things spontaneous. So we wanted the eighth album to be self titled, because it felt like in a way being reborn.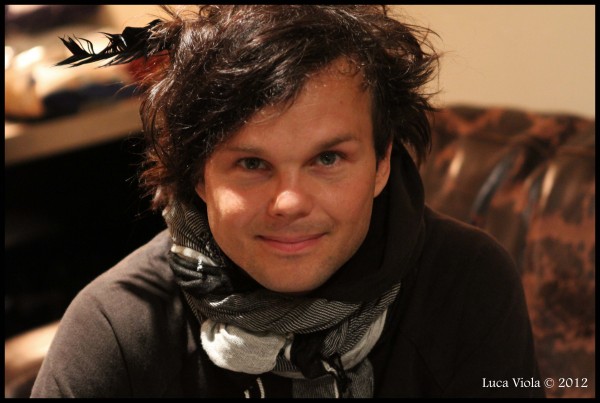 AAAmusic: Lauri your solo album was very electronic, did you take any of the skills you learned to add to the sound on the new record?
Lauri: My solo album was out last year and I'm so different when I am writing my solo stuff I like put my headphones on and it is a very lonely process, I work on the laptop and this kind of music comes through loops and samples it's impossible to play with a band afterwards. We actually tried to play a couple of thou's songs with the Rasmus but it didn't work out. I think what we need to do as a band is to go to the old rehearsal rooms put on the amplifiers and feel the sweat and all that.
Eero: There was one moment when we were at the rehearsal rooms that Lauri had this song that we all liked but it had this kind of synthesizer riff in it and we tried to play it with the guitar, but then we thought actually it works far better with the synthesizers. So the riff was replaced with something else and the song somehow was a similar shape and that was nice. I have to say that Lauri has some really good songs on his solo record, I like his songwriting style and I think we are also learning somehow from what he can do. He has brought something new to the band you always explore new things when you do creative stuff.
AAAmusic: Who would you most like to work on an album with and why?
Eero: Marilyn Monroe!
Lauri: We have done a lot of collaborations mostly with Finish artists, I sang a duet with Ville Valo from HIM and Apocalyptica was playing behind us. That was one of the greatest collaborations, and also Anita the Nightwish singer she was on one of the tracks on one of the albums. Actually we are thinking of having someone from England to sing that song with us onstage, Eero's friend.
Eero: I have a friend that lives here in London, and she just recently visited Finland her names is Tanya Wells and her own songs are folky music which is just a girl and a guitar. She has a brilliant voice so I said 'Hey Tanya come on stage and we will do one song together!' It's nice that you can do something special for each concert. If you play a tour for a couple of weeks it's nice to have something different from yesterday.
AAAmusic: The first single of the new album is I'm a Mess, How did you decide what would be the first single off the new album?
Lauri: Deciding on the first single is always tricky, but this time that was the last song we wrote so we thought maybe this sums up the album in a way and it was actually finished in the studio. Half of it was written back home, and it felt like their was some drive in it.
Eero: I have a good memory of that song actually, It was the last song that we were practicing, right before we were supposed to put the stuff together. And after we finished rehearsing Lauri sent like a very sensitive acoustic demo of that song with his lyrics for that song. I was kind of impressed by the idea that you say I'm a mess or that I am not in control of my life in total, because I think that's what life is you try to grab it but life is always moving you try to run after it but you don't know how it is going to go, so you end up actually being a little bit of a mess and I think that is beautiful. That lyric can be like I am having a new start or let's try and forget what happened or just to say I feel like I'm so shattered but still I feel good and I want to go forward, I think it's a kind of nice lyric.
Lauri: The songs are mostly based on my experiences, but also I keep my eye on the news and I listen to the guys, we are actually like girls we talk a lot. Lets say we have a day when we are supposed to write songs, we might talk for hours and have breakfast first. That's very important at least as important as the songwriting. If you want to belong somewhere, If you want to feel goo in the band and be able to open yourself up if it's needed.
AAAmusic: When writing what are the dynamics in the band?
Lauri: It's very difficult to say when a good idea will pop into your head, you could be doing anything when it comes. It's nice to talk about things that our on our minds and maybe that will bring out a thoughts, first of all you want to help each other out but maybe after you can write a song about it.
Eero: I think in our case when writing songs we have the melody and harmony first and then Lauri writes the lyrics usually when the song is more of less ready. There are some exceptions like I think the song 'Stranger' it already had lines ready for it. So we knew that we had to fit the lines into each bit of the song. Then Lauri wrote the rest of the lyrics on top.
Lauri: We are going to Singapore the day after tomorrow to film the video for that song.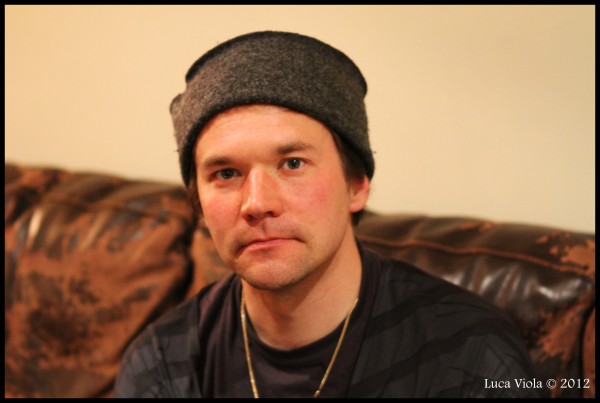 AAAmusic: What do you think your trademark feathers symbolize to you personally?
Lauri: A cross I have to bare, just kidding! It gives me a good feeling to have these, I feel wrong if I don't have them on and when I have them on I step up to the next level mentally. It gives me the power when I go onstage like Dumbo in the Disney films the elephant that can fly and he has that feather and he thinks it's because of that he can fly.
AAAmusic: How do you think your fans in the UK compare to the fans in the rest of the world?
Lauri: We have really loyal fans, like their is a couple of girls from the UK that have been at every show on this tour and one of them was holding a sign that said she had seen us at seventy shows , so that is pretty good. They have been to Finland, Japan everywhere in the world following us.
Eero: Some fans are so passionate that they learn another language your language. We have had a lot of fans that have learnt Finish cause they got to know Finland through our band, and some people move to Finland and stay for a year or six months or something, which is pretty cool. I would actually like to do something quite courageous, recently I have been living in Italy for two years and I've been learning some Italian language.
AAAmusic: Who is your favourite band that you have toured with?
Eero: We have been doing a lot of co-headline and support tours for a long time so some good memories, We toured with HIM a Finnish band and we opened for Red Hot Chili Peppers, Garbage, Metallica
Lauri: Rancid, Yeah we played three gigs with Metallica in South Africa. That was really good, they were nice guys they had drinks with us, they're really like down to earth. Their fans took ok to us, it wasn't like if it would have been here in the UK, In the UK it would have been a disaster for us, like at the Reading Festival with the bottles. In Africa people are just really grateful that someone comes over to play a show. In the UK people are very passionate about music, sometimes a little over passionate about things. I'm so much more relaxed about things if you don't like something I won't go listen to it. I think at the Reading Festival our slot was in the wrong place that day we were in the middle of the hardcore bands.
AAAMusic: What's the last song you listened to on your iPod?
Eero: Can I check…
Lauri: I was listening to Rufus Wainwright (Check). I'm a lucky guy cause I get a lot of free cd's from the record company. So I try to take stuff I wouldn't buy and then sometimes I'm happily surprised when I find it's good music. I'm quite into Rufus Wainwright at the moment I like the new album, actually I already liked the old one… I don't know how many he has put out.
Eero: The cover is a bit odd…
Lauri: Yes!
Eero: He is in a pink suit or something it looks quite gay.
Lauri: I once saw him onstage he was just playing piano, Nothing else. I don't think I would like to collaborate with him, he is in a different league. The piano with my vocals would work quite well I actually started talking to the rest of the band about me playing piano on stage or maybe in the future to have a new dimension. cause I just to play piano… actually I started playing piano when I was five. Their is piano on quite a few of our tracks, it could be cool to go there on a song live.
Eero: We might just leave the drum kit and leave the electric guitar, just piano acoustic, singing and maybe even a cello
Lauri: Tonight at the gig we are going to play a song from each album. We have been changing the setlist just to keep it interesting, fresh for every gig. Like I said their are some fans that have come to see every show. I would feel really bad if we did the same setlist every night and also we have this acoustic part of the show. In the middle of the show so it provides a bit where we can ask people to come sing with us. So we listen they might have some requests. We invited a girl onstage with us in Italy a few days ago and she was a really good singer.
Eero: She knew some of our songs quite well, she only sang one song but she was pretty good.
Daniel Cairns
Photos by Luca Viola