SONNY LANDRETH – Elemental Journey
aaamusic | On 27, May 2012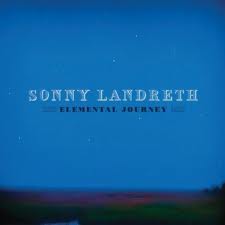 Sonny Landreth is an American blues musician and songwriter from Louisiana, well known for his brilliant slide guitar playing.
His 11th solo album, Elemental Journey, is his first all instrumental one with strong themes which inspire imagery. It's released on 28th May, 2012 via Proper Records. Sonny Landreth elegantly mixes blues, strings, rock, zydeco, classical, country, reggae, and jazz.
The players are Dave Ranson (bass), Steve Conn (keyboards), Brian Brignac, Doug Belote, and Mike Burch (three alternating drummers).The Acadiana Symphony Orchestra provides violins, cellos, and violas on five tracks, directed by Maestro Mariusz Smolij.
Guest Joe Satriani is on guitar in Gaia Tribe and Eric Johnson in Passionola. Joyful Wonderide spins into finger-picking classical guitar forms and the Caribbean style Forgotten Story has steel drums from Robert Greenidge.
Sonny Landreth knows how to play the blues. He has a strong sense of place and purpose and is impressively gracefully with wonderfully melodic songs and a strong, distinctive character of his own.
His harmonically rich compositions are fresh and bright and show great versatility. They contain complex and unusual textures but are not obviously experimental or innovative. As creator of this beautiful and extraordinary album, he should be taken seriously.
Track listing: 1 Gaia Tribe 2 For You And Forever 3 Heavy Heart Rising 4 Wonderide 5 Passionola 6 Letting Go 7 Elemental Journey 8 Brave New Girl 9 Forgotten Story 10 Reckless Beauty 11 Opening Sky.
Anthony Weightman