Duke Specials @ Union Chapel
aaamusic | On 30, May 2012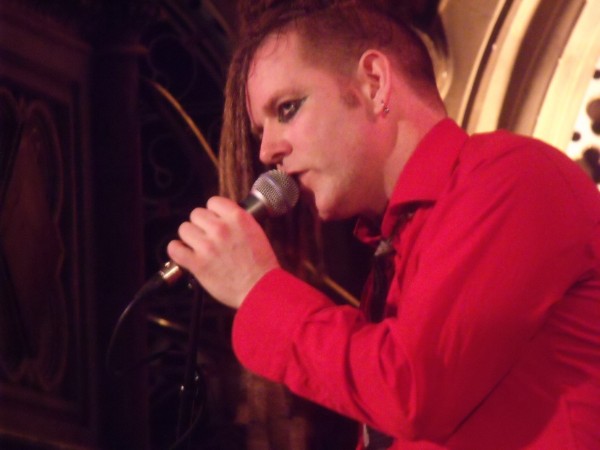 London, 24th May
Mr. Duke Special is a special man with special powers.
He's a magician, with his overlong dreadlocks falling all over his body and the shaved sides of his head. He wears a red shirt, he can't help making funny faces and he's an unbeatable storyteller.
I don't really know if his genius fits well in a church in general. Certainly, the Union Chapel became a pagan hall where his story and his voice resonated at best. Seeing him I thought of that shakespearian character in Hamlet, Yorick. Why? …
The sunlight was still there penetrating through the old stained glasses. Foreign Slippers played just before Duke Special. The duo lead by Gabrielle Fröden, a viking presence on stage with the loveliest voice, produced a good selection of their sweetest pop melodies you can imagine with that scandinavian touch that make you think you want to move to Sweden soon. Her voice is precise and delicate and swing together with her piano tunes. Her static and imposing appearance contrasted with her funny jokes and requests. After telling us how many beers she has been drinking touring with Duke Special (and the kilos she gained) she showed the little puppies she knitted imploring the audience to buy records and puppies to support the new record. Very nice cute songs for this nice weather romantic outdoor walks.
Duke Special opted for Spiritual American to begin with. From the album Under the Dark Cloth, it's a powerful political commentary on the helplessness of American politics inspired by the original photograph by Steiglitz (1920s) of a castrated stallion. His passion and mimic matched with the beauty of his lyrics and the grandeur of the music. Rita De Acosta followed after a detailed exposition of the content of the song, this crazy life of the diva Rita that married several wealthy men right on the late years of their lives.
The performance was constantly interesting and captivating. His haunting piano, the climax of his songs, the rich orchestration and the pompous and loud drums create a unique blend of passionate and theatrical music, hard to get bored of. His sometimes foolish comments and comical expressions make him a great entertainer and performer.
Other than the Under the Dark songs, he played older singles such as Our Love Goes Deeper, Freewheel and Sweet Sweet Kisses.
It was a pleasure to discover this Northern Irish and his music and Under The Dark Cloth is now playing in my iTunes. Simply lovely.
Concert tracklisting:
Spiritual America
Rita De Acosta
My Lazy Savior
Hand of Man
Snakes in the Grass
Nothing Shall Come Between Us
Last Night
Applejack
Punch of a Friend
Lost Chord
Freewheel
Salvation
Happy Days
Condition
Stargazers
Sweet Sweet Kisses
Little Black Fish
Scandal
Real Love
Cherry Blossom
How I Learned To Love The Sun
Nothing Comes Easy
Always Been There
Georgia O'Keeffe
Our Love Goes Deeper
Everybody Wants a Little
Something
Yvette
All That Matters
Pietro Nastasti
Daniel Cairns