The Darkness announce tracklisting and post new track
aaamusic | On 01, Jun 2012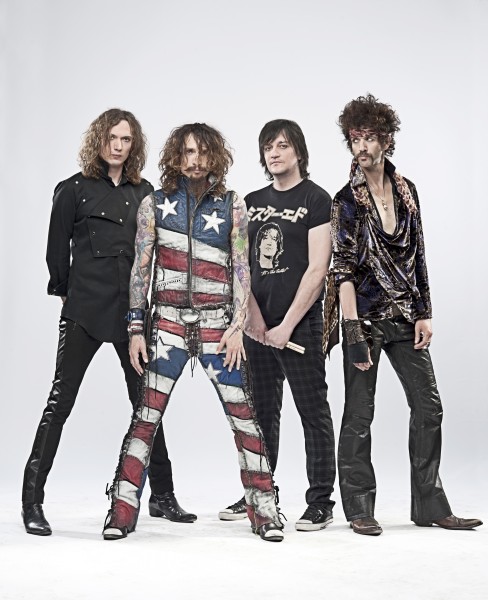 THE DARKNESS return this summer with the eagerly awaited release of their third album 'Hot Cakes' on 20th August 2012.   Today the band made album opener 'Every Inch of You' immediately available via a lyric video posted at www.theactualdarkness.com and the track appearing on iTunes worldwide, providing an excellent taster of what to expect from the third album by this remarkable and unique rock band.
The Darkness have also today revealed the full tracklist for the album, and it looks like this:
Every Inch of You / Nothin's Gonna Stop Us / With A Woman / Keep Me Hangin' On
Living Every Day Blind / Everybody Have A Good Time / She Just A Girl Eddie
Forbidden Love / Concrete / Street Spirit (Fade Out) / Love Is Not The Answer
On the subject of the album, vocalist / guitarist Justin Hawkins commented: "'Hot Cakes' has a nice raw feel to it like the first album had, with occasional luxurious moments akin to the second. We're proud of the songs and we can't wait for people to hear them. We've been playing some tracks for the album in tour, each time we play a new song it feels like a deep powerful thrust in a frenzied love ritual between us and our fans.  August 20th really will be a sweet release for all concerned.
We included the Radiohead cover because it has been a live favourite for many moons, and we wanted to release a definitive recording of our interpretation.
Best of all, 'Hot Cakes' has got even more songs on it than what 'Permission To Land' and 'One Way Ticket To Hell And Back had'. But not if you put them both together."
The album is released via PIAS (UK and world ex-North & South America) and Wind Up (North & South America) on 20th August. The band reformed last year and made their comeback with some club shows and a spectacular show at the Download Festival in front of 70,000 fans.  Sold out tours of the UK, US and Australia followed before putting the final touches to the album which was produced by Justin and Dan Hawkins along with their long-time collaborator, Nick Brine and mixed by Bob Ezrin.
The band start their summer festival season with a show in Trondheim, Norway this Saturday 2nd June.   At time of writing, The Darkness' only UK headline show for 2012 is their outdoor 'hometown' event in Thetford Forest, Suffolk on 14th July (with special guests Black Stone Cherry). The band will then head across Europe and the UK as special guests of Lady Gaga on her 'Born This Way Ball' tour.
Track – 'Every Inch Of You' – available now
Album – 'Hot Cakes' – 20th August
For the avoidance of doubt, The Darkness remains:
Justin Hawkins, Dan Hawkins, Frankie Poullain, Ed Graham.