Guns Or Knives – Can't Beat Him, Can't Join Him
aaamusic | On 02, Jun 2012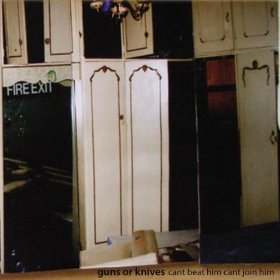 'Can't Beat Him, Can't Join Him' maybe a singer-songwriter folk record, but it ain't exactly easy listening. Guns or Knives is the solo project of London-based Stef Ketteringham, a guitarist/vocalist for the raucous alt-rock/post-hardcore mob Shield Your Eyes – and that necessary aggression of his day job has seemingly seeped its way into this (predominantly) acoustic collection of bluesy folk songs.
Stef recorded this Guns or Knives album at home to manufacture an excessively lo-fi production sound, using different instruments and editing techniques for each track in order create a diverse mix of basic tape-sounding recordings (with hisses and feedback), polished live recordings, and DIY digitally reprocessed punk recordings.
It's this striving for diversity that makes this compilation of Guns or Knives tracks such an enthralling listen, not least because Ketteringham is a rather unique guitar player. There is no doubt that he is a technically skilled guitarist, with his virtuoso fingerpicking on the blues heavy 'Bedding Down Chez Ldv' being a standout, but Guns or Knives is more often happier banging out twangy noise and off-kilter strums instead of flashy, tuneful flourishes.
Opener 'What Good Is That' is a peaceful, almost pretty, acoustic opener, that features folk fingerpicking and a soothing, melancholic voice very reminiscent of Nick Drake, while the spooky mandolin and pained croak of 'I Can't Imagine' or the hoarse cries of slow burning 'And That Ain't All' are as far away from peaceful, pretty, and soothing as Shield Your Eyes. Many or the tracks are extremely short, such as the 45 second 'You're Only Humanoid' featuring the Shield Your Eyes drummer Henry Grimes, which is a blast of distorted noise-rock delivered in screaming garage-punk fashion. The highlight is 'Can't Fake The First Take', which comes across like a raw Frank Turner demo – jangly acoustic folk with a punk-rock backbone and melodic vocals.
Guns or Knives has crafted a little beauty of a lo-fi solo record with 'Can't Beat Him, Can't Join Him' – equal parts sweet acoustic folk ('Skies') and experimental noise production ('Barclaycard'), all intertwined by Stef's love of oldschool blues. Go have a listen, it's out now (it was actually originally released back in 2010). Is it just me, or are the best singer-songwriter albums always by singer-guitarists from alt-rock/post-hardcore bands (Frank Turner, City and Colour, Dustin Kensrue, Dave McPherson, etc)?
★★★★★
Clive Rozario