Big Wave – The Roots Of Love (Come Tumbling Down)
aaamusic | On 03, Jun 2012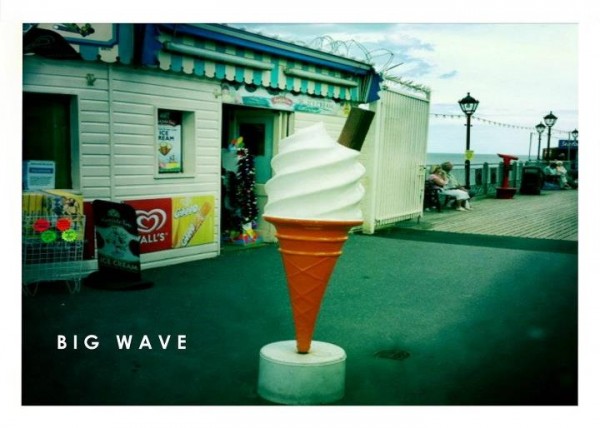 The thing is, I'm a real sucker for music of this sort. I love it. I love it in all its forms – old or new, raw or polished, energetic or laidback. If a band mixes lo-fi alternative rock and dream pop – as Big Wave do – it doesn't really matter to what degree they rock out, or how sugary their pop, I will probably love them. So I'm going to get this out of the way here, at the start: I love Big Wave's new EP 'The Roots Of Love (Come Tumbling Down').
These fellow Devonians hail from Torquay, with all members of this indie quintet living together (probably with clichéd, continuous inter-band tension and hostile, noise-sensitive neighbours). This is Big Wave's second release, following last year's 'Another Year Or Two' EP (of which the title track is reissued here), and features five excellent slices of sweet, icing-topped (that real, homemade icing your mum used to make), indie pop.
Big Wave's chilled-out indie is led by guitarist-singer Ella's beautiful, subtly soulful (if exceptionally indie) voice. Dreamily airy with a slight shoegaze strain, Ella chooses to sing with a quiet calm when it's clear that she could, if she so desired, unleash one hell of a belter – and she almost does towards the end of opener 'Circumstance'. Big Wave's musical core is suitably simplistic and raw, in a post-grunge kind of way (think the lighter side of Foo Fighters or Heatmiser), but they sugarcoat it with Ella's pretty voice and some mighty, melodic guitar-pop to produce a sound more inline with bands like a feedback-less Pavement or the insanely catchy Mazes. Like Mazes, Big Wave keep their songs short (all five tracks on offer are under three minutes), and sharpen them with piercing guitar hooks that get under your skin, into your brain, and tighten your cheek muscles, forcing you to smile as if you weren't a miserable, moaning Brit, but a Californian teen spending every afternoon skipping on a sunlit beach.
Tracks like the lo-fi, US alt-rock influenced 'Circumstance' and the surf-tinged 'Another Year Or Two' feature cute little high-speed solos, while the tinkling keys of the subdued 'Blissed Out' are more inline with 80s dream-pop. The highlights are the mid-paced twee of the sunny title track, and the energetic jangle of the exceptionally catchy 'Leavers Party' (which features the biggest vocal hook and some infectious Doo-da-do-do-doos – very Mazes).
Whether you like your indie-rock overtly melodic and upbeat, or your alt-rock simple and retrained, you will love Big Wave's 'The Roots Of Love'…You just won't love it as much as me.
Out June 11th through Soft Power Records.
Clive Rozario