FIONA APPLE – The Idler Wheel
aaamusic | On 24, Jun 2012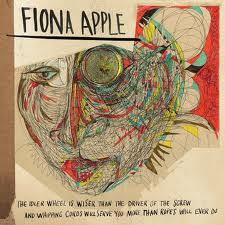 Fiona Apple is an American singer-songwriter and rock pianist . She received international critical acclaim for her debut album Tidal and received a Grammy Award for its single, Criminal . She embraces jazz, baroque, alternative and experimental music.
The Idler Wheel, her 4th album, was released on June 19th, 2012 on the Clean Slate / Epic label with the enigmatic full name of "The Idler Wheel Is Wiser Than the Driver of the Screw and Whipping Cords Will Serve You More Than Ropes Will Ever Do".
To fans this maybe wonderful, fascinating music telling incredibly rich and compelling stories with honesty, insight and a lack of tact. Fiona has a powerful and lively style with a great deal of raw, turbulent emotion. These are daring songs which are dark, angry and brutal. They're tense and uneasy and have an anarchistic tone which is unsettling.
The album is possibly clever, romantic and humorous, but others may look upon it differently. They may find the music hard going, off putting and as difficult to understand as the title itself. They may also feel that these offbeat songs never quite take off and tend to alienate the listener.
Track list: 1 Every Single Night 2 Daredevil 3 Valentine 4 Jonathan 5 Left Alone 6 Werewolf 7 Periphery 8 Regret 9 Anything We Want 10 Hot Knife.
Author: Anthony Weightman