Casio Unveils "Synth Sessions"
aaamusic | On 29, Jun 2012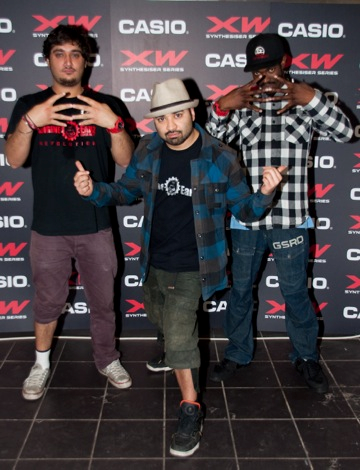 Casio launched their new series of 'Synth Sessions' in East London last night with high energy sets from Bright Light Bright Light, DEMS, Engine Earz Experiment and Artful.
A crowd packed the venue spilling out into the street with guests including electro pop princess Queen of Hearts, sonic whizz MNEK, his brother rapper and producer Bartoven, Jakwob, Sub Focus feature artist Kenzie May and a host of VIP's.
This series of live events will continue throughout the year, featuring sets from both established and up-and-coming talent. The first session will mark Casio's re-entry into the professional synthesiser market with its new XW range, created for performing and recording artists.
There are two models; the XW-P1 is armed with an arsenal of gig-ready sounds such as stereo pianos, vintage electric pianos, strings, brass, guitars, basses, drums and all the tools the performing musician needs. The XW-G1 groove synthesiser with its interactive step sequencer and sample looper is ideal for the DJ and club performer.
Those who have already experienced the raw energy of the hugely successful 'G-Shock Sessions' will have a good idea of what to expect. The nights are about credibility, creativity, talent and innovation – a visceral experience for both performer and audience.
All artists playing the sessions will be utilizing state of the art technology whilst demonstrating the capabilities of the XW series synthesisers.
The XW-P1 features HexLayer tones. A HexLayer is a single sound comprised of up to 6 components, allowing complex layers, splits and velocity switched sounds. The sliders on the XW-P1 can be used to mix sounds on the fly to create evolving pads and rich synth textures while key velocity can be used to create dynamic velocity switched orchestral sounds and more.
The XW-G1 groove synthesiser is geared for the club DJ and dance music performer. In addition to 420 built-in sounds, solo synth and PCM based sounds, the XW-G1 also has the ability to sample. A 19-second sample looper captures internal sounds as well as external instruments allowing the performer to create layers and overdub sounds on the fly.  Sampled sounds can even be saved in Flash ROM so they remain in memory after the keyboard has been powered off.