Hundred Reason / Hell Is For Heroes add extra London date
aaamusic | On 01, Jul 2012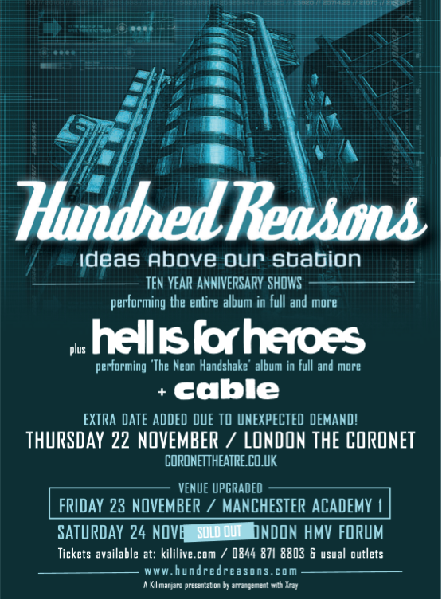 Hundred Reason have added an extra show in London at the Coronet and upgraded their Manchester show to Academy 1 after phenomenal demand saw both original venues sell out in less than 60 minutes!
This week Hundred Reason's guitarist Larry Hibbitt announced on BBC's Radio One Rock Show that the band would play their last ever shows this November, performing their debut "Ideas Above Our Station" in its entirety, with old friends Hell Is For Heroes and Cable in tow as supports. Guitarist Larry Hibbitt exclaims his surpise:
"Due to the unexpectedly high demand for tickets for our November shows we are proud to announce an extra date at the Coronet in London. We have been stunned and humbled by the speed at which these shows sold out. Stunned and humbled. Thank you. See you at the front."
HUNDRED REASONS (Performing Ideas Above Our Station in full and more)
HELL IS FOR HEROES (Performing The Neon Handshake in full and more)
CABLE (first shows since 1999!)
DATES:
Thursday 22nd November – London The Coronet – Extra Show!
Friday 23rd November – Manchester Academy 1 – Upgraded show!
Saturday 24th November – London HMV Forum – SOLD OUT