Syd Arthur – On And On
aaamusic | On 01, Jul 2012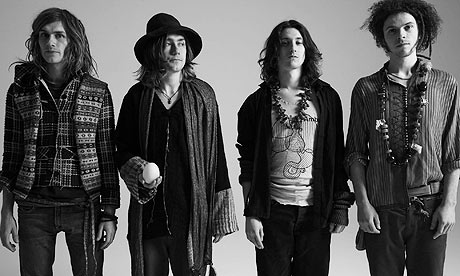 The band Syd Arthur is a quartet of Canterbury-based devotees of sound immersed in the simple pleasures of song writing, performance and exploratory musical interplay. The band is greatly influenced by the 60's and 70's. They may be influenced by these eras but they are equally matched like Wolf People, Black Mountain, Tame Impala and their new album "on and on" is due to be released on July 2nd exploding with ten dazzling songs.
The longest of these songs "paradise lost" starts quite and then explodes into a melodic bass and guitar riff, then simply followed with more stings such as violins. Harmonious "Ah" and then enters the amazing guitar solo. The song then goes on for nine minuets which I'm sure is long enough for anybody to listen to. Other guitar solo entrances involve "ode to summer" and "truth seeker". These songs are both followed with breath talking lyrics and more guitar solos. The song "night shaped light" has a brilliant drumming riff at the beginning of the song which is then followed through the rest of the song with the monotonous "ahh"ing and "ohh"ing of the bands vocals,
The album is very diverse, unique and different to a lot of up and coming bands in the UK. Their unusual style and breath taking lyrics will surly make an impact with this album.
Samantha Grimshaw