A Chat With Miland Petrozza
aaamusic | On 04, Jul 2012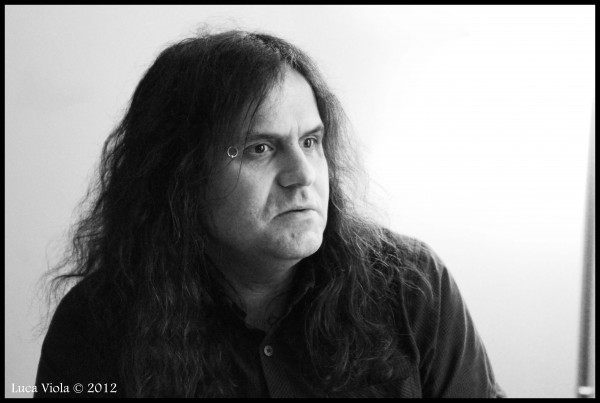 Daniel Cairns talks to Miland Petrozza of the metal band Kreator about what the album 'Phantom Antichrist' is all about and is someone really following him.
AAAmusic: Can you tell me about the concept for your new album 'Phantom Antichrist'?

Miland Petrozza: I think their is a main theme which is what we always do with Kreator we try to make a photograph of the time, when the album was recorded. 'Phantom Antichrist' I got from a radio show in Germany which talked about when Osama Bin Laddin got caught they killed him right away without asking him about the terrorist attacks of September 11th 2001 and they threw him into the ocean because of religious reasons even thou their is no such thing as a sea burial in Muslim religion and after hearing this I came up with this title 'Phantom Antichrist' cause I thought it was a good way of describing this mass media manipulation which controls the whole system. This is controlled by the Government and creates fear. This is what he whole album is about, it's about fear and about not being mislead and influenced by fear and not having your whole life being controlled by fear and 'Phantom Antichrist' has a very powerful graphic look on the world with negative song titles. The thing is with Osama Bin Laddin people don't even know and a lot of people including me have doubted that he ever existed or if he was what they projected him to be. Was he really the anticrhrist, was he really the most evil person in the world or was he just a scapegoat just a person that happened to be around at the same time. This made me come up with this song title and in my opinion it kind of describes the album and it's a nice metaphor for what I think is happening to the world. If you say anything like there was bombs in the basement of the twin towers people just put you in the category of being a conspiracy theorist and that it was not the truth and if a plane crashed into a building like it did at September 11th the building wouldn't collapse like they did and they blamed it all on a force from the east that they saw as a threat and that's how I came up with the title for the new album even thou the song is not about that, it's about the beginning of a new consciousness and a force that kills the old.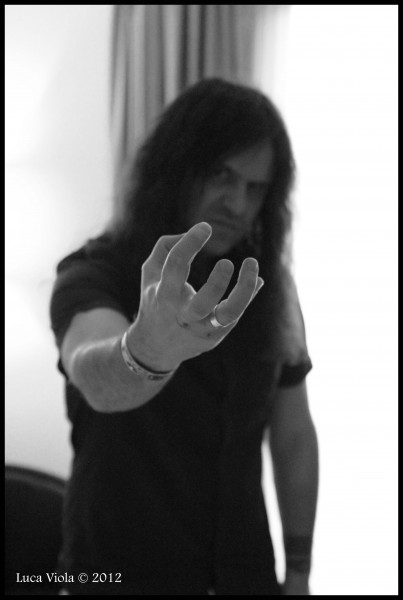 AAAmusic: I love the artwork for the new album who did it for you, and how did you come up with the idea for it?
Miland Petrozza: The guy that did the album artwork was a guy called 'Wes bens cotta ?' he is from the USA and I saw the artwork he did for a band called Autopsy. So I got in touch with the guy and I did so research and saw he did cover artwork for Black Sabbath already and Slayer and really liked all is work. I just gave him the song titles and just told him that the album should be apocalyptic and the whole atmosphere of the album is not desperate but the whole atmosphere of the album is aggressive and dark but with sense of hope in the lyrics and he came up with the artwork. He was also a fan of the band but not like a die hard fan but he knew of the band and the artwork and I gave him some of our previous work which included previous cover artwork we had in the past. He gave the record a real fresh artwork that fitted in with our past work but it was not dated. It was like an 80's cover artwork but it's very extreme and disturbing and if you didn't know it was a Kreator artwork you could see it was he really brought it to life and I like the artwork a lot.
AAAmusic: You have inspired loads of metal bands but who inspires you?
Miland Petrozza: I'm inspired by all kinds of music, basically mainly metal. When I started out I was a pure metal head and then I did some research and I like music in general. Inspiration for the new album was basically a lot of music from the past and a lot of music from this day and age. Anything from classic Metal to even pop music, I think all these things are an influence on Kreator. I like good songs doesn't matter what genre it is, I don't listen to pop music like it is on the radio I like listening to obscure 80's pop if anything. I love a lot of the English bands one of my favourite bands of all time is Fields of the Nephelim, I wanted Carl to do guest vocals on our new record but it just didn't happen. I love the 80's new wave stuff, I even like the new bands that sound like the old bands the Witch house stuff. I think this is an interesting new movement, it's strange cause it's old school but it's not there is something new to it. We added a bit of the sound to our new record by using a Melotone on the record and everything we wanted a keyboard sound to we do it with guitars cause we don't have a keyboard player.
AAAmusic: Most of your songs are about death and disorder, what do you think is the one song in your back catalogue is most different from the others?
Miland Petrozza: I would say on this album we put out in 1999 called 'Endorama' their are a lot of songs on that one the whole album sticks out. It's the album we got a lot of sh*t for because it is a tribute to the new wave and gothic rock genre. This is a album when a lot of our fans said we can't do that but I like it. I make music for my fans but I also make it for myself I have to enjoy the music that I make cause if I don't enjoy it no one else will. I really enjoyed doing this album I think it's one of our strongest albums. It's not the most brutal but it's defiantly different.
AAAmusic: I saw you at the Damnation Festival years ago and I loved your live stage presence it was intense. What do you think is the dynamics of your stage presence?
Miland Petrozza: I think when you play in a live situation it is the interaction with the audience, If the audience is really into it then as a band your stronger. If you have a lame audience it's hard to get into to it. If you have a great audience it helps a lot and the Damnation Festival I remember was a great audience and we had a great night.
AAAmusic: Are you touring, and have you been added to any of the festivals this summer?

Miland Petrozza: Yes we are doing a short festival run and we are doing several shows, We are playing India for the first time. We playing in Chile, we are doing this Metal-Fest tour but it's not hitting the UK for some reason. We will go also on tour in November / December where we will also come to the UK.
AAAmusic: What three genres of music do you think Kreator fits into?
Miland Petrozza: I think basically one genre which is Metal we don't really fit into any other genre. I think we are influenced by three other genres, Pop music the New Wave music stuff and Punk rock and Hardcore and maybe even more but if anything we fit into the bracket of metal.
AAAmusic: You released 'Phantom Antichrist' on 7' inch coloured vinyl, do you think records are coming back into the mainstream?

Miland Petrozza: If you think about it vinyl has been gone for so long but I think it's coming back. We asked years ago to the record company to put one of our releases on vinyl they were like yes we will do five hundred or something and now with Nuclear Blast they are doing a lot more. So I think it's coming back hopefully. We might do a special vinyl for the Record Store day in a couple of years and the colour for our new one is really cool so if we could do something like that for it would be great.
AAAmusic: Is there really someone following you, and if so who?
Miland Petrozza: I wrote this song when I was smoking weed, the feeling when you smoke weed and you get all paranoid. Your in the car and you think the cops are behind you. This is basically what this song is about. It's actually about that being paranoid and weed. It's one of the songs that just came to life the more we play it, it's one of thoughs songs that didn't plan to be a song, we didn't plan on writing a hit it just fell into place and it worked.
Author: Daniel Cairns
Photos: Luca Viola