KATHRYN ROBERTS & SEAN LAKEMAN – Hidden People
aaamusic | On 08, Jul 2012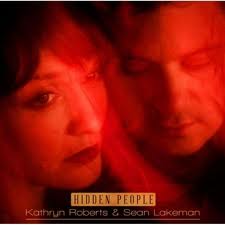 Kathryn Roberts is an English folk singer from Barnsley, Yorkshire who performs as a duo with her husband Sean. In the 90s they played in Equation with Kate Rusby and Seth Lakeman.
Their album Hidden People is released on 9th July, 2012 on Navigator Records. It has eight original songs, one traditional arrangement and a cover version. Hidden People has a very appropriate title. Surprisingly, they've never had sufficient recognition, despite being central to the acoustic folk revival for decades.
Contributors to the album are Sean's famous brother Seth, award-winning Irish singer Cara Dillon; Mark Chadwick from The Levellers, folk legend Dave Burland, folk innovator Jim Moray, Stu Hanna from Megson, Caroline Herring from the USA and Greta Bondesson from Swedish trio Baskery.
Standing At My Window is a dark, supernatural story with an addictive rhythm. Scandinavian folklore tale Huldra, meaning Hidden People, refers to mystical forest dwelling women who lure men to their downfall. The Ballad of Andy Jacobs, backed by Kathryn's solo piano, is a sad, personal and beautiful song written about the miners' strike.
With an instinctive love of music, Kathryn and Sean have added to the success of their early albums by blending many different styles. Kathryn is a strong, versatile singer whose energetic vocals can easily switch from thoughtful ballads to stomping acoustic rock. Sean's quality production can be seen through his impressive arrangements.
There's a fine chemistry between these bold and talented multi-instrumentalists. They're excellent songwriters who create brooding, tragic horror stories and whose warm, well-crafted songs are a joy to listen to.
Anthony Weightman