Shawn Lee – Synthesizers In Space
aaamusic | On 09, Jul 2012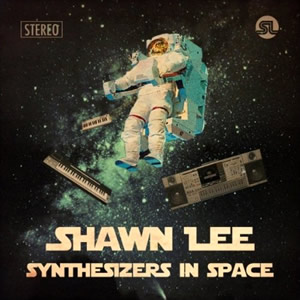 Blues and psychedelia often make for good bed partners, and this latest offering from Shawn Lee is no exception. Clever use of stripped down, evocative textures combined with catchy riffs and spaced out harmonies makes for an enjoyably chilled but also highly colourful affair.
Opening track AJ's Mood is a very effective atmospheric scene setter. Slinky, cool riffs and sparse textures are exploited to full effect, and the piece retains the listener's interest with its playful juxtaposition between bright synths and jagged bass. Celestial Waltz builds on this style with further bluesy bass riffs, syncopated rhythms, chromatic psychedelia, and sci-fi soundtrack-like instrumental textures.
Speaking of sci-fi, the energetic Galactica is next, which strangely enough takes the central riff of Jungle Boogie and re-imagines it as part of an intoxicating trance number. The track has a strong rhythmic vitality about it, thanks to a keen sense of momentum and tribal percussion dance. For some welcome contrast, the next track Head Up features more chord based textures as opposed to the riff dominated numbers that have so far populated the album. Relying on repetition and the varied combinations and juxtapositions of different samples, the song gradually builds up in texture creating a driving feel of forward propulsion. However, it is overly repetitive and could use a few more contrasting musical ideas.
Having mainly been an instrumental album up to now, Boogie Children (Saturn Day Night) sees some vocals arrive, creating a welcome fresh sound to enjoy. Once again blues and psychedelia are combined, along with echo effects, soul inflexions, and chromaticism, all adding up to create a vivid tonal landscape that partially makes up for the somewhat formulaic songwriting.
Low Riders In Space is one of my favourite numbers on the album; a trippy trance track (excuse the alliteration) that features harmonies which are pleasingly reminiscent of The Specials, as are the jarring synths. Sadly, it is a tad overlong, needing some greater variety in order to avoid outstaying its welcome. I also really enjoy Lost In The Shuffle, which has another classic blues motif for its central riff, once again realised within spaced out textures and rasping synths.
The main problem with some of the songs is the overly repetitious nature of the music, particularly in some of the longer tracks. However, it is most evident with Bossa Nova Seela, which – despite some nice slinky percussion – is overlong and lacking in musical innovation. Fortunately, it is more than compensated for by the great Jupiter's Jam, which features some sweet chilled blues with evocative harmonies and aptly intoxicating instrumental textures.
There's a firm and original identity to this album that makes it a real pleasure to listen to. If the songwriting were just to develop a little more, Shawn Lee could be capable of some great things.
Rupert Uzzell