Deadmau5 – Live @ Wireless Festival
aaamusic | On 15, Jul 2012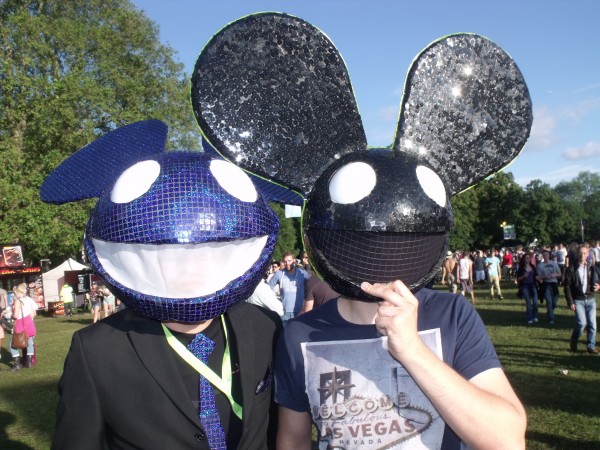 London, Friday 6th July 2012
Metric (Main Stage) are a Canadian four piece from Toronto, the singer Emiley Haines looks cool in sunglasses and sparkly hot pants, as the run through the indie electronic rock sound. They have a nice sound with catchy choruses and are breaking through to the mainstream with their fourth album 'Fantasies'. You might know a few songs off this record which they play today but you won't be able to remember the names or where you have heard them. The set is so quick that you don't know if you can make a proper judgment on if you like them or not.
Zed (Unwind Stage) aka Anton Zaslavski is mixing house and dance with Dub-Step. He brings on an impressive movement of great beats and pumping tunes. This artist has worked with the best in his field like Skrillex and Fat boy Slim. His remix of Skrillex's 'Scary monsters and nice Spirits' was a massive hit on all the dance charts all around the world. Working the crowd up into a frenzy  of people jumping up and down like Zebedee from the Magic Roundabout. I get bored by a lot of DJ's but he has a certain presence and puts on a show even without any kind of light show. He is joined by Deadmau5 on stage and the two embrace for a hug to a standing ovation.
Maverick Sabre (Main Stage) has been championed by many a T4 presenter but a lot of other people don't know anything about this Irish singer that was born in London. He brings a soulful tone to the day but is nothing special. He has a couple of nice songs but they are not bold enough so do not come out over the PA so you don't get to hear the full range of his voice so the performance just seems flat and dead.
Zed's Dead (Unwind Stage) is another friend of Deadmau5 and he plays a similar set to Zed earlier and it's just like treading on old ground and he can't get the crowd going in quite the same way it is a little like having the same artist play twice but it is still good but it doesn't have the same factor as Zed's set earlier on.
Jaguar Skills (Unwind Stage) is well known for mixing popular music with dance and scratching on Trevor Nelson's Saturday night radio show. The artist is called Jaguar Skills but  I waited and I waited and I saw no skill involved he just seemed to be stopping and starting songs without really mixing them together but the crowd are loving it. He wore a hooded face mask like a ninja does but this guy has no speed of light, he has no skill and he defiantly doesn't pounch like a Jaguar and with this performance today it makes me think that some of his on the spot things could have been pre-recorded. I would love to see him again in a small venue to see if he can deliver the goods or not but this performance for me had no point to it, i could have done this at home in the warm of my bedroom and listen to the records I want to listen to instead.
Knife Party (Pepsi Max Stage) The tent is absolutely packed for Knife Party and being founded by Pendulum's Rob Swire and Gareth McGrillen you can see why most people would want to see what they are all about. They mix up songs similar to a lot of the other DJ's on the bill but it is delivered in a bundle of light and a heavy deep sound that bursts out of the packed tent. There is not so much drum 'n' bass in this than their other projects but what is in there is mixed in with the Dub-Step sound an electronic noise infliction which is all in this party. I didn't get the whole experience I wanted due to the packed tent leaving no space for movement, but I know this is going to be a huge dance act for the future.
Deadmau5 (Main Stage) has gone a long way since when he first played at the Wireless festival a few years back, his show back then was more simplistic and his show now is a massive Lazar show of beautiful imaginary. He wears his new vision screened mouse head that shows different faces on it like a creepy TV screen. He starts his set off playing some of his more instrumental material even not wearing the head for the first couple of songs. The instrumental set that contains songs that keep to his beats and Trippy sound is merged off with the hit single 'I remember' that he did with Kaskade a artist that is playing on the Sunday of the festival and was a massive hit. The light show is something else and the crowd is full of fans dressed in Deadmau5 heads and glow stick mouse ears who are dancing to the beats that the giant mouse is playing. The crowd really gets going to the anthem 'Ghosts n' Stuff' which is one of the most memorable songs of the evening. Deadmau5 is taking the dance scene by force but some of his material is a little similar so the two hour long set does drag on a bit but there are quite a few amazing moments with memorable anthems.
Daniel Cairns